Harvey flirts with no-no, fans career-high 13
Harvey flirts with no-no, fans career-high 13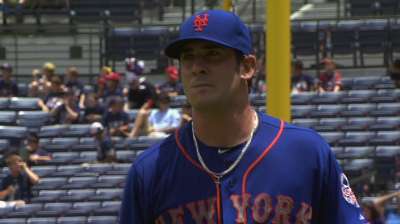 ATLANTA -- Until Tuesday, Matt Harvey had always been the main event. The Man. In each of his first two-dozen games as a big leaguer, he was the overriding reason why people came to the ballpark, flipped on their televisions and watched, mesmerized, as he succeeded.
Then Zack Wheeler came along, arriving at Turner Field for the second half of Tuesday's doubleheader and forcing Harvey -- for the first time ever -- to the undercard. All Harvey did was respond with one of the better performances of his already-sublime young career in Game 1, holding the Braves to one hit over the first seven innings of a game the Mets hung on to win, 4-3.
"He loves to face huge challenges," manager Terry Collins said. "Now with Zack here and all the publicity -- let's face it, [Harvey] is the guy. He's the guy here. And with all the attention to Zack, he might have said, 'I'm still the guy here.'"
Electric from the start, Harvey caught Jordan Schafer looking at a 97-mph fastball on the inside corner to open the first, whiffed Jason Heyward on 100-mph heat to end the inning and struck out a career-high 13 in total. He set down a half-dozen straight batters to open the game, walked two in the third, then responded to that touch of adversity by whiffing six more in a row and retiring 10 straight.
But Heyward opened the seventh by squibbing a ground ball down the first-base line, out of range for anyone to make an easy play. Harvey fielded it and flipped to first in a desperate attempt to keep his no-hitter intact. But with no one covering the bag, Heyward reached on an infield single.
After the game, first baseman Lucas Duda approached Harvey to apologize, though Collins insisted that Duda made the right play in pursuing the ball. Either Harvey should have realized what was happening and covered first himself, Collins said, or second baseman Daniel Murphy should have sprinted over to the bag.
Even if someone had manned first, Heyward still might have reached safely. So the second-guessing afterward was all somewhat futile.
"It's definitely one of those games where I thought [a no-hitter] was possible a little bit more than the other ones," said Harvey, who has taken three no-hit bids into the seventh already this season. "I was striking out a lot of guys, and they weren't putting the ball in the outfield too often. Anytime that's going on, you think in the back of your mind that this is possible."
"Guys like that, with that kind of stuff, they're going to flirt with no-hitters from time to time," Heyward said. "It's not going to be a surprise to anybody."
Such talk made what happened late in the game even more potentially damaging. Still cruising but admittedly feeling gassed, Harvey eschewed an opportunity to tell Collins he was tired, instead coming out for the eighth and loading the bases on a walk and two singles. No sooner had Harvey retreated to the dugout than LaTroy Hawkins allowed two runs to score on Schafer's single, and lefty reliever Scott Rice coughed up another on Heyward's double that glanced off Duda's glove.
"I'm frustrated, because I ran out of gas there in the eighth," Harvey said. "I shouldn't have gone out there knowing I was probably pretty much done. I gave them a chance to come back and gave our team a chance to lose. I'm kicking myself for that. I don't like giving up runs, but in the long run, we won the game, and that's obviously all that matters."
The Mets then intentionally walked Freddie Freeman to reload the bases, before closer Bobby Parnell struck out Braves third baseman Chris Johnson to preserve the one-run lead.
"That was a good one to get," Parnell said. "Coming in with the bases loaded to get a strikeout, that's big."
It all could have made for another disappointing day had the Mets, for once, not provided enough offense. Ripping a two-out single in the third inning and moving up 90 feet on David Wright's walk, Murphy hustled around to score from second on an infield hit by Marlon Byrd. As Johnson threw to first in an attempt to nab Byrd, Murphy rounded third and narrowly beat the tag at home.
Braves starter Alex Wood came out of the game after that with an apparent blister on his left hand, and John Buck greeted the first man out of the bullpen, Cory Rasmus, with a leadoff homer in the fourth. The Mets added runs on Jordany Valdespin's pinch-hit, bases-loaded walk in the eighth and Omar Quintanilla's sacrifice fly, using that push to survive the late scare.
And with that, Harvey put his personal stamp on a day that could have belonged solely to Wheeler. In quiet corners of the clubhouse, the Mets spoke of this day as a potential boon for the franchise, the type of thing that hints at brighter tomorrows.
With that as his backdrop, Harvey made it clear that he remains more than a sideshow, more than an undercard -- he is still the main event.
Then again, said Collins, "It will be fun to see how the other guy does."
Anthony DiComo is a reporter for MLB.com. Follow him on Twitter @AnthonyDicomo. This story was not subject to the approval of Major League Baseball or its clubs.