Mets strike late to help strong Wheeler win debut
Mets strike late to help strong Wheeler win debut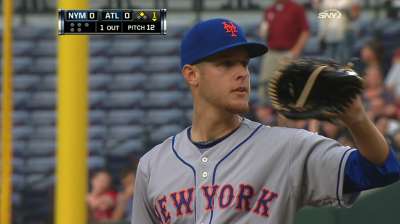 ATLANTA -- When Mets starter Zack Wheeler missed the strike zone with six of his first seven pitches, third baseman David Wright went to the mound to calm down the talented young right-hander making his much-anticipated Major League debut.
"When you're here in your first game in the big leagues and you got a lot of people at the game there to see you, when one of the biggest stars in the game comes over to settle you down, I think you might want to listen," Mets manager Terry Collins said. "It's just realizing, 'We're behind you here. Give us a chance, and we'll help you. You don't have to strike everybody out.'"
Wheeler did utilize seven strikeouts and a lively upper-90s fastball to clean up his own mess in spots while turning in six shutout innings in his Major League debut on Tuesday night, but Wright and his teammates picked him up in the field and at the plate. Wheeler's batterymate, Anthony Recker, helped spark the rest of the New York offense in securing the top pitching prospect's first big league win.
Recker's two-run home run in the top of the seventh woke up the New York bats and lifted the Mets to a sweep of Tuesday's doubleheader at Turner Field with a 6-1 win in the second leg, helping to put the memory of Monday night's heartbreaking loss further in the rear-view mirror.
Hours after Mets ace Matt Harvey turned in a masterful 13-strikeout performance to help key a 4-3 Mets win in the first game of the doubleheader, Wheeler showcased the blazing fastball and complementary offspeed offerings that had the Mets and their fans eagerly awaiting his big league debut.
"I saw some big things obviously out of those two guys, and I just hope, not only you guys that were here to see it, but people saw it," Collins said. "They're going to enjoy watching these two young guys for a long time. They're going to be around, and they're going to be in the same rotation. You got two guys that can win some baseball games for you."
Recker backstopped a successful debut for the Mets' prized pitching prospect before putting him in line for the win with a two-run shot to dead center off Braves starter Paul Maholm, who took issue with the strike zone employed by home-plate umpire Paul Schrieber leading up to Recker's blast.
"I struck him out," Maholm said. "Three of the pitches were strikes and then I've got to throw it 3-1. Obviously, I didn't make a good pitch. But you've got to look at it that there were three pitches that were strikes. He took advantage of getting into a hitter's count."
Then, just as they did in the first game of the day, the New York bats came alive in the eighth inning to provide their starting pitcher enough insurance to earn a well-deserved victory.
With the Mets protecting a 2-1 lead through seven innings, Marlon Byrd got things going in the eighth when he legged out a double that caromed off the leg of Braves reliever Anthony Varvaro and rolled into shallow center field. Then, Varvaro's pickoff throw to second missed its mark and skipped into the outfield, where B.J. Upton overran the ball backing up the play, allowing Byrd to score.
An RBI single by Juan Lagares brought home Josh Satin, and Omar Quintanilla delivered a single of his own through the right side to score two more. It was the second time in as many games on Tuesday that New York's much-maligned offense came through with multiple insurance runs in the eighth inning, scratching out two off David Carpenter to secure Harvey's sixth win of the season in the first leg. Collins testified to the importance of rewarding Wheeler's performance with a win on the strength of the team's late-arriving offense.
"Matt Harvey might answer that because he got his first start and he got a win in Arizona," Collins said. "There's nothing like pitching well and going home with a 'W.' We talk all the time about, 'Hey, your job is to give us quality innings,' and that is the job of a starting pitcher, but you know what? The next day, for the most part, there's a 'W' next to somebody's name and there's an 'L' next to somebody's name. And you want that 'W' next to yours if you can have it."
Early on, the offenses showed the effects of the teams competing in their third game within a span of 24 hours, after Monday night's series opener was delayed three hours and 43 minutes due to rain. Heading into Tuesday night's game, the teams had combined for only 10 runs in 18 innings.
Wright set a milestone of his own in the top of the ninth inning, collecting his 1,500th career hit with a single into shallow right field off reliever Cory Gearrin. However, the veteran was well aware that the franchise's optimistic takeaways from Tuesday's twin bill would extend far beyond his statistical accomplishment.
"That's a formidable two arms that hopefully develop into a 1-A and a 1-B," Wright said. "Obviously, just like every other Mets fan, I was eager to see what all the hype was about. It gives you a good glimpse of what could be in the very near future."
Eric Single is an associate reporter for MLB.com. This story was not subject to the approval of Major League Baseball or its clubs.