Braves can't solve Harvey, Wheeler in doubleheader
Braves can't solve Harvey, Wheeler in doubleheader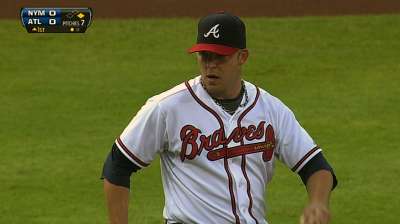 ATLANTA -- Playing three games within a span of 24 hours will never be viewed as an enviable task. But if the Braves are ever forced to do so again, they can only hope they do not have to face Matt Harvey and Zack Wheeler on the opposite ends of a doubleheader.
After coming up short in their bid to rally late against Harvey in the first game of Tuesday's doubleheader at Turner Field, the Braves were unable to solve Wheeler as he enjoyed a successful Major League debut and helped the Mets complete a sweep with a 6-1 win in the nightcap.
"It was just a rough last 24 hours," Braves center fielder B.J. Upton said. "We fought off all we could in the first game. It was just a disappointing end to the second game. All in all, I think the score doesn't really say how close that game was."
Anthony Recker's two-run homer in the seventh inning off Paul Maholm proved to be the decisive blow for the Mets as they swept the Braves in a doubleheader for the first time since Sept. 6, 2006. A three-run eighth inning against Harvey was not enough for the Braves as they took a 4-3 loss in the first game.
"It was exhausting," said Braves shortstop Andrelton Simmons, who recorded two hits and drew two walks in the nightcap. "I'm just glad it's over with. We'll get some rest and get ready for tomorrow's game."
The doubleheader capped a long stretch for these two teams, as they sat through a three-hour, 43-minute rain delay on Monday before the Braves claimed a 2-1 walk-off win on Tuesday at approximately 1:22 a.m. ET. All told, the two teams played three games within a span of 23 hours and 19 minutes.
Fatigue seemed to set in as the Mets scored four runs with two outs in the eighth inning of Tuesday's second game. The first of these runs was tallied by Marlon Byrd, who scored from second base when Anthony Varvaro's errant pickoff attempt slipped under Upton's glove as he was backing up in center field.
Varvaro allowed three singles and issued two walks to the five batters he faced following Upton's error. This inning resembled the decisive two-run eighth the Mets constructed in the first game with the help from right-handed reliever David Carpenter, who issued two walks and hit a batter.
"You hate losing games when you make mistakes," Braves manager Fredi Gonzalez said. "But it doesn't matter how long you're here for. That's the way it goes. We've got two more games against these guys. We always talk about winning series. We win the next two and we win the series."
The Braves have been held scoreless in 24 of the first 27 innings played during this five-game series. They stranded 12 runners and went 0-for-12 with runners in scoring position during the nightcap.
Harvey surrendered just one hit before allowing three eighth-inning runs in the first game. Wheeler followed that outing by tossing six scoreless innings despite issuing five walks. The wildly effective outing was celebrated by the many friends and family members who attended the game to see the debut of the highly touted pitching prospect from suburban Atlanta's East Paulding High School.
"I was really impressed with the way he competed after he walked a couple of guys," Mets manager Terry Collins said. "He stepped off the mound, got his composure and went after people with his fastball, which was pretty impressive. A lot of guys at this level think you have to trick people, and he didn't do that."
While the eighth inning provided a deflating end to a long day, the decisive blow actually came when Recker hit his two-run homer after Maholm felt he had struck out the Mets catcher. Recker's shot over the center-field wall came on a 3-1 backdoor cutter that found just enough of the plate.
"I struck him out," Maholm said. "Three of the pitches were strikes and then I've got to throw it 3-1. Obviously, I didn't make a good pitch. But you've got to look at it that there were three pitches that were strikes. He took advantage of getting into a hitter's count."
Maholm allowed just the two runs despite surrendering nine hits in seven innings. The veteran southpaw has now allowed a home run in each of his past five starts. But his postgame frustration was aimed at home-plate umpire Paul Schrieber.
"The first few innings, I was making pitches and getting calls," Maholm said. "Then a couple innings later, I was making the same exact pitches and they weren't called. It's part of the game. You've got to deal with the strike zone day to day and see what they are calling. The first few innings, they were strikes, and later on, they weren't."
Wheeler pitched around a pair of walks in both the first and third innings. After walking Brian McCann to put runners at first and second with one out in the sixth, he recorded the last of his seven strikeouts against Dan Uggla and then got Chris Johnson to pop out to end his evening.
Uggla's second-inning one-out double went to waste when Johnson and Maholm followed with strikeouts. Simmons singled to begin the bottom of the fifth and was promptly retired when Jason Heyward grounded into a double play.
"We definitely had chances to score runs and we didn't do anything about it," Simmons said. "We'll just try to forget about it and try to come out tomorrow and do it."
Mark Bowman is a reporter for MLB.com. This story was not subject to the approval of Major League Baseball or its clubs.