Giants can't hold off Padres in extra innings
Giants can't hold off Padres in extra innings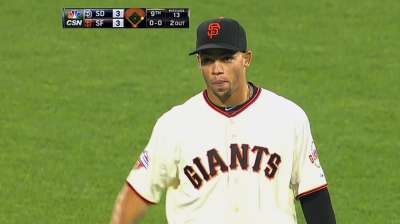 SAN FRANCISCO -- In his 10 days with the Giants, Juan Perez has already made quite an impact on a squad depleted by injuries and currently running out lineups that more closely resemble something you would see in a Cactus League game in March.
On Monday, he came inches away from a 12th-inning walk-off hit, but it took what Giants manager Bruce Bochy called "one of the best catches I've seen to save a game" from Padres center fielder Will Venable to extend the game, which the Padres won, 5-3, in 13 innings.
Perez, who had already made a dazzling play himself in center field by throwing out Logan Forsythe -- the potential go-ahead run -- at third base in the top of the ninth to preserve a 3-3 tie, tattooed a ball to deep center field with Brandon Belt standing on second base, but Venable dove to catch the ball on the warning track in front of the fence 399 feet from home plate, a play that in many ways mirrored Gregor Blanco's perfect-game-saving snag a year ago.
"I was trying to get a line drive on it up the middle, got a good swing on it and he made an unbelievable catch," Perez said. "If it drops, we win the game. I saw it the whole way."
In the end, the Giants' offensive struggles prevented them from snapping the Padres' six-game winning streak as San Diego passed them in the standings. It's the first time the Giants have been in fourth place since April 8.
With every reliever other than recent callup Jake Dunning already used, Bochy turned to left-handed reliever Jose Mijares in the 13th. He allowed three consecutive singles, the third of which came from Tuesday's starting pitcher Andrew Cashner, who entered the game to pinch-hit for Padres reliever Nick Vincent. Cashner dropped a beautifully placed squeeze bunt to the third-base side of the pitcher's mound that scored Alexi Amarista. Dunning later walked home an insurance run, charged to Mijares.
"He just wasn't on," Bochy said of Mijares, who declined comment following the game. "We were running out of pitchers at that point and he's our long guy, but he was off."
With the lack of offensive production, the Giants wasted another strong home outing from Barry Zito, who pitched 5 2/3 innings and allowed two runs while striking out eight -- his most since Aug. 6, 2010.
"I felt pretty good tonight. I was upset about that walk to [Jesus] Guzman," said Zito of his sixth-inning free pass to the Padres first baseman, which led to San Diego's second run. "We almost had a double play after that. Belt was pretty close to getting that out."
Like he has several times this season, Zito bounced back at home after a rough road start. His outing in Pittsburgh on Wednesday was a disaster, as he lasted only 4 2/3 innings while allowing eight earned runs on 11 hits and one walk. It's been a season of contrasts for Zito, who is 4-1 with a 2.06 ERA in nine home starts after a no-decision Monday, compared to a miserable 0-4 mark with an 11.28 ERA away from AT&T Park.
"I think we just need to get everything clicking," Zito said. "We're pretty banged up right now."
Ultimately, the Giants mustered just 10 hits -- none of which were extra-base hits. Belt and Hector Sanchez singled home runs in the fourth inning and Joaquin Arias added a sacrifice fly. The Giants did not score again in the final nine innings.
After Bochy came out to argue a call in the top of the 13th, he inadvertently called for a double-switch to bring Dunning and Buster Posey into the game. Rather than save Posey to pinch-hit to lead off the 13th, as he said was his plan after the game, he called for a double-switch and Posey would've been the eighth batter due up in the 13th.
"I got distracted," Bochy said. "I was out there arguing and once I said [the double-switch] wrong, I was stuck. I probably should've stepped back and thought a bit. ... It was a brain cramp.
"It didn't change the game anyway, but we were hoping to have [Posey] lead off."
Bochy added that Marco Scutaro -- out of the lineup with an injured finger -- would've batted for Dunning, who was due up sixth in the 13th and that starter Chad Gaudin would've pitched on his regular bullpen day had the game entered the 14th inning.
With Arizona's 3-2 loss to Miami, the Giants could've climbed within a half-game of the division-leading D-backs with a victory. Instead, San Diego passes San Francisco in the crowded National League West standings. The division's top four clubs are within 1 1/2 games of each other nearly halfway through the season.
Andrew Owens is an associate reporter for MLB.com. Follow him on Twitter @OwensAndrew. This story was not subject to the approval of Major League Baseball or its clubs.