Trout fastest player to 200 runs scored since '40
Trout fastest player to 200 runs scored since '40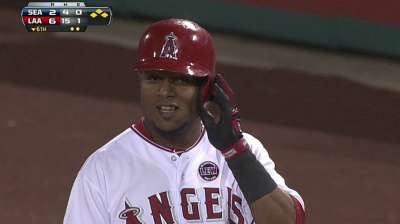 ANAHEIM -- Mike Trout's list of accomplishments continues to grow.
When the 21-year-old scored in the sixth inning of Monday's 11-3 win over the Mariners, the 249th of his career, against the Mariners, he became the fastest player to score 200 runs since Ted Williams (225 games) and Barney McCosky (236 games) reached the mark in 1940.
"I take pride in scoring runs as the leadoff guy," Trout said. "Get on base and score some runs, that's my job."
Following up his historic rookie campaign, Trout has already stolen headlines this season when he hit his first career grand slam on April 20 and hit for the cycle on May 22.
"He's playing at a high level again and it's fun to watch," Angels manager Mike Scioscia said.
Only seven players have crossed home plate 200 times in fewer games than the Angels' young phenom and five of them -- Joe DiMaggio, Lloyd Waner, Kiki Cuyler, Williams and Chuck Klein -- are in the Hall of Fame.
William Boor is an associate reporter for MLB.com. This story was not subject to the approval of Major League Baseball or its clubs.