A's edged in opener in Texas as late rally falls short
A's edged in opener in Texas as late rally falls short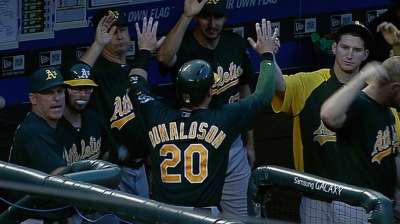 ARLINGTON -- Dan Straily's outing on Monday didn't look remotely close to his first start at Rangers Ballpark in Arlington this season, or to his last five starts.
The A's squandered a three-run lead to fall to the Rangers, 8-7, on Monday. Straily received a no-decision, allowing six runs on eight hits in 4 2/3 innings. He struck out one and walked one on 82 pitches. The rookie is 0-2 with a 7.00 ERA in four starts on four days' rest.
Oakland had the tying run on second and the go-ahead run on first in the ninth inning, but the A's couldn't pull off the comeback after giving up the lead they gained from a six-run fourth inning.
The A's fell behind early as the struggling Rangers woke up against Straily. He allowed a two-run shot to A.J. Pierzynski in the second and an RBI single to Ian Kinsler in the third.
"I feel like everyone up there was looking to swing out of their shoes on every single pitch," Straily said. "They got me, that's really all there is to it."
The A's rocked Nick Tepesch in the fourth as they batted around the lineup. They scored six runs in the inning and knocked Tepesch out of the inning. John Jaso started the inning with a leadoff double and reached third dodging two tag attempts by Adrian Beltre. Jaso scored on Brandon Moss' RBI single. Seth Smith brought in two more runs on a double with the bases loaded. Jed Lowrie hit an RBI double in the next at-bat to give the A's a 4-3 lead.
Eric Sogard and Coco Crisp scored runs on a sacrifice fly and a single. Crisp was the last batter Tepesch face after allowing six runs on six hits in 3 2/3 innings.
"I just didn't make quality pitches," Tepesch said. "That was pretty much it. Not executing and making quality pitches."
Straily pitched seven scoreless innings in his last start at Texas on May 21. He was 3-0 with a 2.21 ERA in his last five games.
"It was just command issues, but Straily has been doing so well lately that I wouldn't worry or try to overdo it between now and his last start," Jaso said. "You're going to have days like that. It happens, allow it to be past him and just keep doing what he's been doing."
Jesse Chavez forfeited the lead to the first hitter he faced. Nelson Cruz hit his second homer of the game, a two-run shot, to give the Rangers a 7-6 lead in the fifth. Chavez received the loss, allowing two runs on two hits in 1 2/3 innings.
"It was just a changeup I was trying to execute down and away," Chavez said. "I led with my palm and it crept back in the middle. It's a pitch you can't make 0-2."
"[Cruz's] first at-bat was a popup. After that it was failure of execution," Jaso said. "I think those home runs are just pitches down the middle of the plate. A strong guy like that, you can't get away with that."
The A's offense struggled once Tepesch left the mound. They went down in order in from the fifth to eighth to Neal Cotts, Robbie Ross and Tanner Scheppers. The trio collected four strikeouts in that stretch. Cotts received the win, pitching 2 1/3 scoreless innings.
"We scored enough runs to win the game," Athletics manager Bob Melvin said. "Our at-bats over the course of the game were good. We battled again there in the ninth and had an opportunity. Usually with our pitching staff, that'll win you a game when you score that many runs."
The A's rallied in the ninth but fell short against Rangers closer Joe Nathan, who got the save. Smith scored on a sacrifice fly from Crisp with the bases loaded and one out, but Derek Norris popped up to third to end the game.
"Those guys are outstanding in the bullpen," Lowrie said. "It's easy to just point to their ERAs and say they've had a great year, but they have great stuff to back it up as well."
Master Tesfatsion is an associate reporter for MLB.com. This story was not subject to the approval of Major League Baseball or its clubs.