Rangers end slide with Cruz's big day, clutch relief
Rangers end slide with Cruz's big day, clutch relief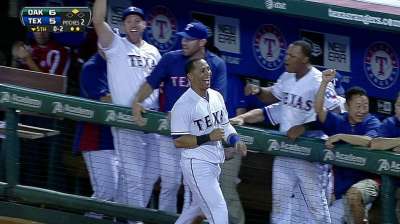 ARLINGTON -- The crowd was standing and cheering at the end, the players were high-fiving and shaking hands when the game was over and the music was once again blaring in the clubhouse.
The Rangers had not forgotten what it was like to win a game.
"It's nice to be able to come in to the clubhouse and high-five each other," third baseman Adrian Beltre said. "Nobody likes to lose a game. You try to avoid the situation we have been in lately and we couldn't do it. But we know we're better than what we've shown the last six games and it's nice to finally get a win."
Nelson Cruz, A.J. Pierzynski and superb work by three middle relievers delivered the victory as the Rangers opened a four-game series against the Athletics with an 8-7 victory on Monday night at the Ballpark in Arlington.
Cruz drove in four runs with two home runs and a double while Pierzynski had a home run, a double and a seventh-inning walk that helped bring home a crucial insurance run. The Rangers trailed 6-3 in the fourth inning against Oakland starter Dan Straily before rallying to win. The Rangers had gone a season-high three games without hitting a home run and the eight runs and 12 hits were the most in one game for them this month.
"We came back tonight and played like Texas Rangers," Cruz said. "There's no better time to come up and do what we're supposed to do than against our division rivals. It was in our minds that we all believed we can do it. They're a great team over there. So to be able to do what we were able to do tonight, to get closer to a great team was big."
The victory snapped the Rangers' six-game losing streak and moved them back to within two games of the Athletics in the American League West.
"What happened is what we said needed to happen," manager Ron Washington said, "We got some basehits in run-scoring situations and kept grinding. The only thing about tonight is we did what we're capable of doing. The most important thing is we played good baseball tonight."
Rangers starter Nick Tepesch, after a fast start, got knocked out of the game in a six-run fourth inning in the second shortest of his 13 starts this season. But the Rangers' middle relievers, beginning with Neal Cotts, were superb. Cotts retired seven straight hitters to get the Rangers through the sixth and earned his third victory since being called up on May 21.
Robbie Ross then set down the side in order in the seventh and Tanner Scheppers did so in the eighth. That was 13 straight hitters set down by Rangers relievers until Joe Nathan allowed a double to Seth Smith leading off the ninth.
"If those guys hadn't done what they did, it might have blown up the whole bullpen," Washington said. "But they settled things down and allowed us to keep grinding."
Nathan, asked to protect an 8-6 lead, loaded the bases with one out in the ninth. Coco Crisp flied out to drive home one run but Nathan retired Derek Norris on a popup to earn his 21st save.
"We were definitely able to come in and get some big outs and keep the game where we needed it for our offense," Cotts said. "It was just a good all-around game by the whole team. We've been busting it and today everything finally worked out well."
Pierzynski gave the Rangers a 2-0 lead in the second with a two-run home run off Straily. The Rangers added another run in the third on a leadoff double by Leonys Martin and a two-out single by Ian Kinsler.
But Tepesch couldn't hold the lead. He retired nine of the first 10 batters he faced through three innings, then couldn't make it through the fourth. Instead the first six batters reached base on five hits and a walk. They all ended up scoring to give the Athletics a 6-3 lead and Cotts had to get the last batter of the inning on a grounder to shortstop Elvis Andrus.
"I just didn't make quality pitches," Tepesch said. "That was pretty much it. Not executing and making quality pitches."
Cruz hit his first home run with the bases empty in the bottom of the inning off Straily to make it a two-run game. The Rangers then went ahead in the fifth. Pierzynski drove home Kinsler with his double and Cruz followed with a two-run home run off reliever Jesse Chavez.
The Rangers added another run in the seventh that proved to be the difference. Beltre reached on a one-out single off Chavez and Pierzynski worked a walk off of left-handed reliever Jerry Blevins. Cruz followed with a double down the left-field line to bring home Beltre.
"Every hitter went to the plate just to do what the situation asked of him," Beltre said. "It's not like we weren't doing that before. Tonight we just had better at-bats and found more holes. We had more life -- hopefully it's the beginning of something better."
T.R. Sullivan is a reporter for MLB.com. Read his blog, Postcards from Elysian Fields, and follow him on Twitter @Sullivan_Ranger. This story was not subject to the approval of Major League Baseball or its clubs.