Wood's solid outing unrewarded vs. Cards
Wood's solid outing unrewarded vs. Cards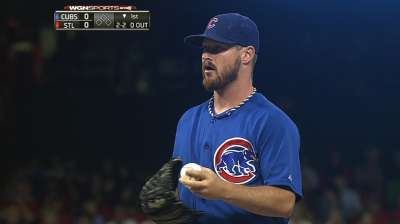 ST. LOUIS -- Travis Wood could only do so much.
The Cubs wasted another solid outing by one of their starting pitchers as Yadier Molina hit a two-run double to lead the Cardinals to a 5-2 rain-delayed victory Monday night at Busch Stadium.
Wood notched his 13th quality start in 14 outings this season, and he did so against the team with the best record in baseball. The lefty was also perfectly positioned at home plate for a play in the seventh that Cubs manager Dale Sveum and home-plate umpire D.J. Reyburn did not agree on. Sveum ended up getting ejected.
"It just wasn't enough, really," Wood said of his outing. "I felt I was making pitches and keeping them off balance pretty good, but they got to me there in the third or fourth and put up a two spot. They hit some good pitches. They're a good ballclub over there."
The lefty retired the first seven batters he faced before Pete Kozma doubled with one out in the third. Kozma was stranded, but the Cardinals came through in the fourth. Carlos Beltran and Matt Holliday singled to open the inning, and Beltran moved up on Allen Craig's flyout. Molina drove both runners in with a double into the gap in right center.
It got messy in the seventh. The Cardinals had runners at second and third with one out when Kozma hit a grounder to third baseman Luis Valbuena, who threw to first. Kozma was safe on the infield hit, as the throw pulled first baseman Anthony Rizzo off the bag. Rizzo then threw home, but the ball sailed over catcher Welington Castillo for an error.
Molina, the runner at third, broke for home. Castillo recovered the ball and threw to Wood, who was covering at home, and the throw appeared to be in time, but Reyburn ruled that Molina beat the tag and was safe.
"My take was that he was out, but [Reyburn] has got the overall say, and he called him safe, and we have to overcome that and get after the next batter and make the pitches," Wood said.
Sveum immediately sprinted from the dugout to argue the call, and he was ejected for the third time this season. That gave him a chance to watch a replay.
"[Molina] looked out to me," Sveum said.
Did Reyburn say the tag was high?
"No," Sveum said. "He said he got it right."
The Cubs were coming off a tough loss Sunday against the Mets, when Carlos Marmol blew a 3-0 lead in the ninth, resulting in a 4-3 loss. It has been a frustrating season, and Sveum said the play in the seventh came at a key point. If Molina is out, there are two outs in the inning with the pitcher's spot up. The Cubs would trail only by two.
"It's a big play in the game at that time," Sveum said. "One of your best pitchers on the mound, if not our best pitcher, blocks the plate and gets there, and it's just an out call."
It did appear that the throw beat Molina to the plate.
"It beat him by a lot," Sveum said.
It did not surprise Wood that Sveum was fighting for the Cubs.
"He knows we're good, and he's pushing us to even be better," Wood said. "He knows what we're capable of doing, and he's trying to get us to put it all together."
Chicago finally scored in the eighth on Nate Schierholtz's one-out RBI single, and Darwin Barney added a two-out solo home run in the ninth. That was it. The offense has just not been able to do much.
"It's been that way all year," Sveum said of Wood's outings. "Last time he pitched against these guys, we won, 2-1, but it's been tough to score runs all year. Travis has been our best pitcher, day in and day out, every fifth day. He consistently throws six, seven innings and gives up two, three runs, if not one."
Is Wood frustrated?
"It's tough for the team," the pitcher said. "We're scratching and clawing, trying to get everything we can right now and put together quality ballgames. We're falling a little short right now, but I feel it's a good group of guys, like I always say. We're going to eventually get it together and string together some wins."
Cardinals manager Mike Matheny remembered Wood's outing May 7 in Chicago, where the lefty limited the Cardinals to one run over 6 2/3 innings.
"He's been tough on us," Matheny said. "We've hit some balls hard with nothing falling through. Yadi getting a big hit for us, kind of turned the tide there. Our guys have had the habit of not panicking the first time through the lineup. The second time, it looks like their at-bats get better. And then they have a pretty good plan if the starter is still in there of what they have to do."
Wood may not rank among the National League leaders in wins, but he is among the top 10 in ERA, and he could be the Cubs' All-Star representative at the July 16 game at Citi Field.
"He's the one who has been the most consistent," Sveum said.
Carrie Muskat is a reporter for MLB.com. She writes a blog, Muskat Ramblings, and you can follow her on Twitter @CarrieMuskat. This story was not subject to the approval of Major League Baseball or its clubs.