Miller exits early, but Cards cruise vs. Cubs
Miller exits early, but Cards cruise vs. Cubs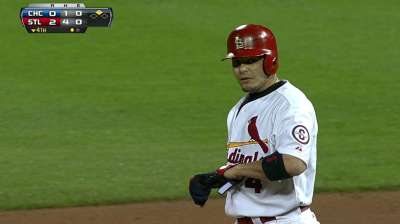 ST. LOUIS -- It has already been a season peppered with lessons for rookie Shelby Miller. He has been schooled on the importance of efficiency, reminded of the need to use his off-speed pitches and challenged to find his rhythm quicker.
Monday's teaching point may have been a bit more mundane than anything to do with mechanics or mentality, but Miller took with him another nugget: Fill up on the fluids.
Miller earned the win in the Cardinals' 5-2 victory over the Cubs, but he lasted only five innings because of cramping in his right leg. He was picked up by four relievers who preserved the lead, giving Miller his eighth win -- the most of any Major League rookie.
The game, which was played in front of an announced crowd of 44,172, was delayed one hour, 59 minutes at the start because of rain.
"You know, it's rain, tornadoes and everything," Yadier Molina joked of the club's recent string of playing around inclement weather. "I can't wait for good weather."
Though his pitch count elevated quickly in the early going, Miller never let the Cubs seriously threaten. The leadoff hitter reached in two of Miller's five innings but no further. The only runner who did, Welington Castillo, was given the extra base on a two-out wild pitch.
In the meantime, a two-run double by Molina broke the seal on a scoreless game in the fourth. It was the second time the Cardinals had scored off lefty Travis Wood in 10 innings this season.
"He beat us in Chicago, and we've had trouble getting too many hits strung together," manager Mike Matheny said. "We've hit some balls hard with nothing falling through. Yadi getting a big hit for us, kind of turned the tide there."
With the lead in hand, Miller's biggest hindrances to pitching deeper were self-inflicted. His pitch count again proved problematic; it sat at 57 by the end of the third and at 83 when he closed the fifth. That would not, however, be what pushed Miller to the sidelines so early.
After delivering a 1-1 pitch to Wood with one out and one on in the fifth, Miller walked to the grass behind the pitcher's mound and began to stretch. He said later that his right leg had begun cramping earlier in the inning, and he was increasingly in discomfort.
"That pitch got me pretty good," Miller said. "It was just happening when I would push off [the mound]."
That prompted a visit from Matheny and head trainer Greg Hauck. They let Miller close the inning -- which he did on four pitches -- but that would be it. Miller was removed for a pinch-hitter in the bottom half of the frame. He left with the lead and an ERA of 2.08, the third-lowest in the National League.
"I think we all saw a drop in velocity, a drop in the crispness he had had all game, and that's enough warning for us," said Matheny, who received no pushback from Miller upon making the move. "Usually [if] he starts compensating there, something is going to be compensated and possibly hurt somewhere else, if not the calf itself. It was a good time to take him out."
Miller immediately retreated to the clubhouse, where he hydrated and had a trainer stretch him out. Afterward, he cited dehydration as the culprit.
"I know I wasn't taking care of myself fluid-wise, drinking enough electrolytes," Miller said. "It's something I need to start staying on top of and making it part of my routine."
Miller's outing kicked off a string of rookie appearances Monday, as he was followed by three out of the 'pen. Kevin Siegrist maintained his zero ERA by contributing 1 1/3 scoreless innings. Siegrist, who has not been scored upon his six games, is the first Cardinals lefty to open his big league career with that long of a scoreless streak since Tyler Johnson in 2005-06.
Seth Maness recorded the final two outs of the seventh. Trevor Rosenthal lost the shutout as well as his streak of 20 consecutive scoreless appearances in the eighth, though Edward Mujica helped bail him out by getting the final out -- and potential tying run -- in the eighth.
"It just seemed like the right move at the time," Matheny said of bringing Mujica in for his first four-out save since April 18. "We have four outs to get the rest of the game. I'm going to go to my closer."
Mujica secured his 20th save soon after.
The closer inherited a 4-1 game, with the Cardinals having added to their early two-run lead with two runs (one earned) off Wood in the seventh. Molina, now hitting a National League-best .355, began the frame with his second hit of the game. David Freese followed with a single, and Jon Jay moved both runners up with a sacrifice bunt.
Pete Kozma hit a sharp liner that third baseman Luis Valbuena stopped with a diving play. But his throw to first was not in time to get Kozma, and as it scooted away, Molina made a move as if he was going to try to score. That drew a throw home from Cubs first baseman Anthony Rizzo, who sailed the ball over his catcher's head. This time, Molina did break.
The throw back to home beat Molina, but home-plate umpire D.J. Reyburn ruled that Molina's foot touched the plate before the tag was applied.
"Any time you got an opportunity to be aggressive," Molina said, "you take it."
Cubs manager Dale Sveum immediately contested the call and was ejected.
"It's a big play in the game at that time," Sveum said. "One of your best pitchers on the mound, if not our best pitcher, and [he] blocks the plate and gets there and it's just an out call."
Shane Robinson's sacrifice fly added the second run of the inning. The Cardinals tacked on another in the eighth by capitalizing on a fielding error by Alfonso Soriano.
Jenifer Langosch is a reporter for MLB.com. Read her blog, By Gosh, It's Langosch, and follow her on Twitter @LangoschMLB. This story was not subject to the approval of Major League Baseball or its clubs.