Ventura treasures College World Series memories
Ventura treasures College World Series memories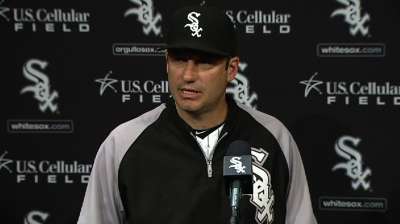 HOUSTON -- As the College World Series continues this week, White Sox manager Robin Ventura recalls the great memories taken away from playing there for Oklahoma State in 1986 and '87.
The Cowboys lost the title game in '87 to Stanford, a team including future White Sox teammate Jack McDowell, who had helped to end Ventura's amazing 58-game hitting streak earlier in the World Series.
"Every college kid, it's a treat to get to go to Omaha," Ventura said. "And that's your goal as soon as you start your season, to be able to do it. Omaha does an unbelievable job of running that tournament.
"I got to go back as an analyst after baseball. So, it was a great event. I loved going to that place. It's a hidden gem of tournaments. People talk about Final Fours and bowl games. But if you like baseball, it's a great event."
Ventura remembers watching Bobby Thigpen, the current White Sox bullpen coach, participate for Mississippi State during the 1985 World Series. As for personal memories, there are too many too list.
"There are a lot of memories I can remember," Ventura said. "But I think when you first go there -- and we used to play at Rosenblatt Stadium -- and the first game is going on and you get to arrive there while a game is going on and get that excitement. The first time you are there is special."
Scott Merkin is a reporter for MLB.com. Read his blog, Merk's Works, and follow him on Twitter @scottmerkin. This story was not subject to the approval of Major League Baseball or its clubs.