With Toronto on hot streak, Gibbons' focus is each game
With Toronto on hot streak, Gibbons' focus is each game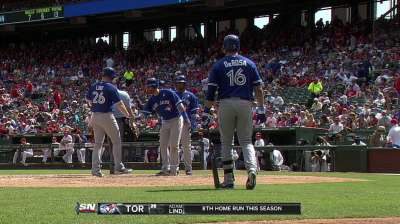 TORONTO -- The Blue Jays are playing their best baseball -- entering Monday's game, they have won five straight and nine of their last 12.
Still, nobody is looking too far ahead.
"We're worried about tonight," manager John Gibbons said. "We can't get too far ahead of ourselves. We're playing good baseball right now, but we'd just like to win this one tonight."
Their recent play has moved the club to within four games of .500 for the first time since late April, and Adam Lind knows the difference between now and earlier in the year.
"Everything," the Blue Jays first baseman said. "We've come into our own a little bit. …. Everyone knows where we're going to be everyday in the lineup. I think that helps our team get comfortable and succeed."
In the past 12 games, the entire pitching staff has posted a 2.29 ERA, while the offence has scored an average of 5 1/4 runs per game.
However, the Blue Jays still sit 8 1/2 games behind the Red Sox for the American League East lead and 5 1/2 games out of a Wild Card berth, but Toronto's not about to get complacent.
"I think, like any team we have things to improve upon still," Lind said. "We can always do things a little bit better in every part of the game, but we've definitely played better as of late."
Teddy Cahill is a reporter for MLB.com. Follow him on Twitter at @tedcahill. Evan Peaslee is an associate reporter for MLB.com. This story was not subject to the approval of Major League Baseball or its clubs.