Corbin denied 10th win, D-backs drop fourth straight
Corbin denied 10th win, D-backs drop fourth straight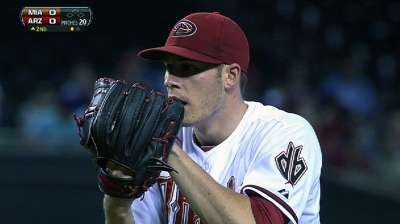 PHOENIX -- Giancarlo Stanton was a one-man wrecking crew for the Marlins on Monday night.
The slugger belted a pair of home runs to lead the Marlins to a 3-2 win over the D-backs at Chase Field.
"A guy swinging that good, we've got to find a better way to get around him," D-backs manager Kirk Gibson said.
So, how will they do that in the next two games of this series?
"Stay tuned," Gibson said. "We'll think about it."
Not to take anything away from Stanton, but the D-backs' offense shouldered most of the responsibility for this loss.
The D-backs out-hit the Marlins, 7-3, but were just 1-for-12 with runners in scoring position and left nine stranded. The struggles came on the heels of a three-game sweep at the hands of the Padres, a series in which the D-backs managed just six runs.
"We're in a bad spot at the plate right now," Gibson said. "Guys are trying to do too much, thinking too much. You can tell they're just thinking up there, pressing up there."
The lack of clutch hitting spoiled another pitching gem by left-hander Patrick Corbin, who allowed a pair of runs over eight innings. Corbin came up short in his third straight attempt at his 10th win and the D-backs lost for the first time in Corbin's 14 starts.
Corbin had a no-hitter through 5 1/3 innings before Juan Pierre broke it up with a bloop single to left.
After Pierre's single, Corbin got Ed Lucas to pop out, but the shutout was gone when Stanton hit a towering home run to left to tie the game at 2.
"I felt good, was cruising for a little bit and just that one pitch to Stanton," Corbin said. "And that's the one guy that Gibby said might hurt us and the one guy to maybe pitch around a little bit. I said to myself before that pitch, I was going to make sure it was a ball and I kind of left it there and he put a good swing on it."
After Corbin departed following the eighth having thrown 106 pitches, the D-backs turned to closer Heath Bell, who pitched for the Marlins last season.
That provided Bell with an up-close look at Stanton and he knew just how dangerous he could be.
"Giancarlo Stanton is a great hitter, he's got incredible pop and any time he makes contact, the ball is going to go somewhere," Bell said.
Bell jumped ahead of Stanton 0-2 and after a foul ball, Bell missed with a curve to make the count 1-2.
Thinking he could get Stanton to chase a pitch out of the strike zone, Bell threw a fastball high and outside. Not quite high enough or far enough outside, as it turned out.
Stanton hit the 95-mph fastball the opposite way and into the right-field bleachers for a 3-2 Miami lead.
"I just tried to throw him a pitch he couldn't get to and he got to it and he gone," Bell said. "I just need to be better next time and make a better pitch and not let him hit it so far."
Despite the four straight losses and offensive struggles, the D-backs remain in first place by half a game over the Rockies in the National League West.
"I think it's frustrating, but I think the guys are rallying around," Bell said. "I don't think we're hanging our heads. I think we're still confident. No matter what happens tonight, we're still going to be in first place tomorrow. Good teams go through streaks like this and find ways of winning and we'll get on top again."
The offense the D-backs did come up with centered around first baseman Paul Goldschmidt.
Goldschmidt's 16th homer of the year came in the third when he hit a line drive over the wall in right to give Arizona a 1-0 lead.
The home run snapped an 0-for-12 streak for Goldschmidt.
The D-backs added a run in the fifth when Gerardo Parra led off with a single, stole second and scored one out later when Goldschmidt lined a single to center.
Steve Gilbert is a reporter for MLB.com. Read his blog, Inside the D-backs, and follow him on Twitter @SteveGilbertMLB. This story was not subject to the approval of Major League Baseball or its clubs.