Costas calls Mets to apologize for comments
Costas calls Mets to apologize for comments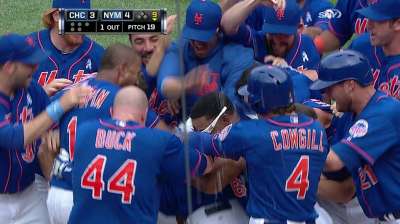 ATLANTA -- Terry Collins heard the quip. How could he not? NBC broadcaster Bob Costas generated headlines Sunday when he called the Mets' walk-off celebration evidence of "the decline of Western civilization."
"All right, civilization's over," Collins jabbed back Monday afternoon. "We'll have to rebuild it."
Running through highlights during NBC's coverage of the U.S. Open, Costas criticized the Mets for celebrating as if they had "just won the seventh game of the World Series," when in reality they simply moved to within 13 1/2 games of the first-place Braves.
A day later, Costas called Mets public relations guru Jay Horwitz to apologize.
"He's an intelligent guy," Collins said. "I don't really know what that all means. But I know one thing, we had a nice celebration."
In reality, Collins said, he would have been "a little concerned" had his team not celebrated the win, which Kirk Nieuwenhuis ended with a three-run homer off Cubs reliever Carlos Marmol. As Nieuwenhuis rounded the bases, the Mets ran out of the dugout and swarmed him at home plate.
"Show me a team that has a walk-off home run that they don't celebrate," Collins said. "Show me one. I've seen the Yankees do it, I've seen the Cardinals do it, I've seen the Los Angeles Dodgers do it. Everybody's excited."
Anthony DiComo is a reporter for MLB.com. Follow him on Twitter @AnthonyDicomo. This story was not subject to the approval of Major League Baseball or its clubs.