Astros 'fully engaged' in talks with No. 1 pick Appel
Astros 'fully engaged' in talks with No. 1 pick Appel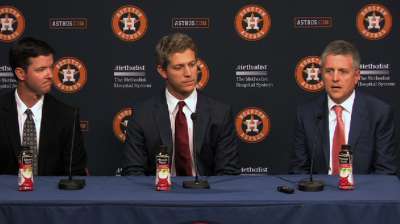 HOUSTON -- Astros general manager Jeff Luhnow said Monday the club is "fully engaged" in contract talks with No. 1 overall pick Mark Appel, the right-handed pitcher from Stanford, and hopes to be able to complete a deal this week.
While it was reported late last week the Astros and Appel had reached a deal, Luhnow said he wanted to wait until Appel's commencement exercises at Stanford on Sunday to ramp up negotiations.
"We're trying to move it as fast as we can," he said. "We wanted to give him the weekend to enjoy his commencement. We're optimistic we can move it pretty quickly."
Luhnow said the Astros have yet to meet with Appel or his representative, Scott Boras, but there have been solid conversations.
"We feel good about where it's headed," Luhnow said.
When asked if Appel could be in the fold this week, Luhnow didn't hesitate.
"I hope so," he said.
Appel, a Houston native, went 10-4 with a 2.12 ERA this year as a senior. He held opponents to a .203 batting average, had 130 strikeouts and issued just 23 walks in 106 1/3 innings.
The Astros announced Monday the signing of second-round pick Andrew Thurman, a right-hander from UC-Irvine who told MLB.com on Friday he had reached an agreement. Thurman is the sixth pick from among the Astros' top 10 to sign, joining fourth-round pick Conrad Gregor (first baseman, Vanderbilt), fifth-round pick Tony Kemp (second base, Vanderbilt), sixth-round pick Jacob Nottingham (catcher, Redlands, Calif.), seventh-round pick James Ramsay (outfielder, South Florida) and eighth-round pick Jason Martin (outfielder, Anaheim, Calif.).
In addition to Appel, the club's top remaining unsigned picks are third-rounder Kent Emanuel, a pitcher, and ninth-rounder Brian Holberton, a catcher. Both play for the University of North Carolina, which is competing in the College World Series. Left-hander Austin Nicely, a 10th-round pick from Penn Laird, Va., also remains unsigned.
"The rest of the top 10-rounders, two of them are in Omaha right now and certainly we have to wait for that to end before we can engage with them and see where they're at," director of amateur scouting Mike Elias said. "We're continuing progress. We've got most of them done now in the top 10 rounds and we're intending to sign almost all our Draft picks."
Brian McTaggart is a reporter for MLB.com and writes an MLBlog, Tag's Lines. Follow @brianmctaggart on Twitter. Chris Abshire is an associate reporter for MLB.com. This story was not subject to the approval of Major League Baseball or its clubs.