Mariners bullpen falls flat vs. hot-hitting Angels
Mariners bullpen falls flat vs. hot-hitting Angels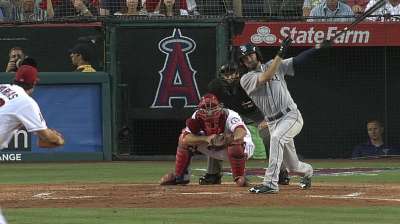 ANAHEIM -- Angel Stadium continued being a house of horrors for the Mariners on Monday as Aaron Harang and Seattle's bullpen got hit hard in an 11-3 loss in the opener of a four-game series.
The Mariners are now 0-3 at the doorstep of Disneyland this season, getting outscored 30-4 in the process with the Angels hitting .425 on 48 hits in the trio of blowouts.
Harang has taken two of those defeats in Anaheim and lost his third game of the season to the Angels as the veteran right-hander lasted just five innings.
Harang, 35, has thrown shutouts this year against the Padres and Astros, but the rest of baseball has had the veteran right-hander's number. And the Angels are first on that list as he's now 0-3 with a 12.35 ERA while allowing 27 hits and 16 runs in 11 2/3 innings to the Halos.
The Angels racked up a season-high 21 hits on Monday. A dozen of those came against Harang, though he limited the damage to four runs before being replaced by Carter Capps after five frames with a two-run deficit.
But the Halos blew the lid off with seven runs in the sixth, with Capps giving up four in just two-thirds of an inning, the last three coming across after Charlie Furbush couldn't stem the tide after entering with the bases loaded. Furbush was tagged with three runs of his own (one earned) while allowing four hits before he finally struck out Josh Hamilton to end the frame.
Harang is now 3-7 with a 5.73 ERA overall in 11 starts since being acquired in an early-season trade from the Rockies.
The Angels jumped on Harang for eight hits and four runs in the first two innings, with Hamilton delivering a two-run shot that just deflected off the glove of leaping center fielder Michael Saunders in a three-run second inning for a 4-0 lead.
The veteran took advantage of an aggressive Astros team to throw a two-hit shutout his last outing, but the Angels are a lot more experienced and came out looking for his fastball early in counts.
"I've faced a lot of those guys over the last few years and they know I'm going to be aggressive and try to throw strikes and get ahead early with my fastball," Harang said. "After that second inning, we kind of had to flip things around and go off-speed pitches early and try to get ahead with that. That way you kind of keep them off of just sitting on the fastball."
Harang was left shaking his head over the three-run second inning when the speedy Peter Bourjos was called safe on an infield single after shortstop Carlos Triunfel's throw pulled Michael Morse's foot off the bag at the last second. So instead of getting the second out and potentially emerging unscathed on Trout's ensuing fly ball, Trout wound up with a sacrifice fly and Hamilton followed with his two-run shot.
"If that play goes differently, I get the next batter to fly out and it's a totally different inning," Harang said. "Then I'm probably going out for the sixth or even the seventh. It's crazy how one little play like that can change the whole aspect of a game."
Southpaw Jason Vargas picked up his first win against his former Mariners teammates, allowing two runs and four hits over seven innings as he improved to 6-4 with a 3.65 ERA while striking out a season-high nine batters.
"He did a great job with his fastball and changeup," said manager Eric Wedge. "He had a great feel for his changeup and he does what he does. He does a good job of moving his fastball around and keeping you honest."
Vargas lost to Seattle 2-1 in his only prior meeting this year after being traded over the offseason for Kendrys Morales, so he appreciated the offensive support.
"You definitely don't want to take the runs for granted, but you go out there and just attack the strike zone," he said. "You know you've got some room to attack with."
Rookie second baseman Nick Franklin hit a two-run homer to left field off Vargas in the third to cut the deficit to 4-2. It was Franklin's third home run since being called up from Tacoma three weeks ago and his first while hitting right-handed.
"I've been trying to hit as much right-handed as I can, just because I don't see an many lefties," said the young switch-hitter. "So the more the better. I'm starting to get back into the right-handed groove and see more pitches."
But the Angels extended their lead once Harang departed as Capps gave up a run on Albert Pujols' double off the right-field wall and then proceeded to see the wheels come off completely. Pujols and Alberto Callaspo went 4-for-5 and Mike Trout went 1-for-3 and scored the 200th run of his career in just 249 games, the fastest Major Leaguer to 200 runs since 1940.
With the win, the Angels improved to 31-39 and moved into third place in the American League West, a half game ahead of the 31-40 Mariners.
The Mariners played without Jason Bay due to a sore hamstring and continue having to play Michael Morse and Morales despite injuries, but Wedge indicated help could be on the way after general manager Jack Zduriencik was in Sacramento watching Triple-A Tacoma on Monday night.
Wedge said first baseman Justin Smoak and outfielder Franklin Gutierrez are getting close to full health, while Dustin Ackley has also been swinging a strong bat since being sent down and converting to the outfield.
"We also need to get the guys here healthy and some of the other players going," Wedge said. "Obviously, Nick has been doing a nice job and [Kyle] Seager is very consistent. We need to get Michael Saunders going again. We've got Ackley down in Triple-A and he's been swinging the bat well. He's working in the right direction. Mike Zunino has done a nice job in the short period of time he's been here. When you separate it all out, there's reason for optimism offensively, but it has to come together collectively."
Greg Johns is a reporter for MLB.com. Follow him on Twitter @GregJohnsMLB as well as his Mariners Musings blog. This story was not subject to the approval of Major League Baseball or its clubs.