Hamilton goes deep as Angels rout Mariners
Hamilton goes deep as Angels rout Mariners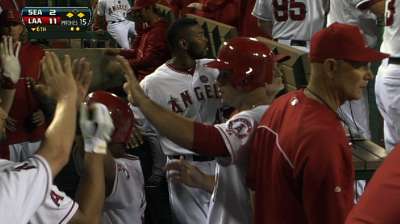 ANAHEIM -- Angels right fielder Josh Hamilton was given Sunday off, but spent 40 minutes working in the batting cage just in case he was called upon late in the game.
The call never came, but the cage work paid off a day later as the Angels notched an 11-3 victory over the Mariners on Monday night at Angel Stadium, their fourth win in five games.
While Jason Vargas recorded his first career victory against the Mariners -- the team he spent the past four seasons with -- Hamilton and the rest of the Angels offense exploded for a season-high 21 hits.
"Twenty-one hits is a good breakout game for us, coming off a good ninth inning yesterday," Angels manager Mike Scioscia said.
The Angels have scored 16 runs in their last nine innings, but the offensive success goes further than that as the club has tallied 36 runs in its last five games.
"We're having great at-bats," Mike Trout said. "We're swinging at strikes, we're getting our walks ... getting on base, just giving ourselves a chance to score."
Not only did each of the Angels starters record a hit, but Brad Hawpe and Brendan Harris each singled as 11 different Angels reached base.
Hamilton highlighted a three-run third inning with his 10th home run of the season -- a first-pitch blast to straightaway center field that tipped off Michael Saunders' glove to give the Angels a 4-0 lead.
"It's good to see Josh not only get a hold of one, but see some pitches," Scioscia said. "He hit the ball well the other way today, then his home run went to center. Hopefully, he's getting to a more comfortable level in the batters' box."
In the sixth, the Angels blew the game open as they sent 12 batters to the plate, scored seven times and watched Trout etch his name into the history books once again.
Trout, playing in his 249th career game, scored his 200th career run, becoming the fastest player to score 200 runs since Ted Williams (225 games) and Barney McCosky (236 games) did it in 1940.
Trout said the accomplishment was humbling, but added that scoring runs is simply part of his role on the team.
"I take pride in scoring runs as the leadoff guy," Trout said. "Get on base and score some runs, that's my job."
While Hamilton has lit up Mariner pitching throughout his career -- 20 career home runs against Seattle, the most against any opponent -- he has thrived against Aaron Harang this season. Hamilton is 5-for-7 with two home runs and a triple against Seattle's right-hander.
The right-fielder was not the only Angel to have success against Harang as the Mariners' pitcher gave up 12 hits in his five innings.
"I've faced a lot of those guys over the last few years and they know I'm going to be aggressive and try to throw strikes and get ahead early with my fastball," Harang said.
Hamilton's struggles have garnered the majority of the attention, but third baseman Alberto Callaspo has also been mired in a slump.
Callaspo began Monday hitting .169 in his last 20 games, but collected four hits to match a career high and logged his first multi-hit game since June 8.
"Bert really has been struggling," Scioscia said. "I think it was good that, [while batting] left-handed, he shot one into left field and then right-handed he hit one to right center. He needs to get back to that up the middle approach and he had that tonight."
As Hamilton and Callaspo were using the offensive outburst to potentially break out of their slumps, Albert Pujols simply continued his hot streak. After a 4-for-5 performance against the Mariners, Pujols has 12 hits in his last 23 at-bats.
The Mariners scored their first two runs when Nick Franklin hit a home run off Vargas in the third inning.
However, that was one of the few mistakes the left-hander made on the evening. Vargas recorded a season-high nine strikeouts and limited the Mariners to just four hits in seven innings.
"I was able to locate the fastball and the secondary stuff was working," Vargas said. "Just one of those games where instead of putting it in play, I got some strikeouts instead."
It was also the seventh time Vargas has held his opponent to two runs or less in his past 10 starts.
"It's going to be fun to watch when you score a lot of runs and when our pitching is pitching good, we're a tough team to beat," Trout said.
William Boor is an associate reporter for MLB.com. This story was not subject to the approval of Major League Baseball or its clubs.