Eluded by saves, Marmol will no longer close
Eluded by saves, Marmol will no longer close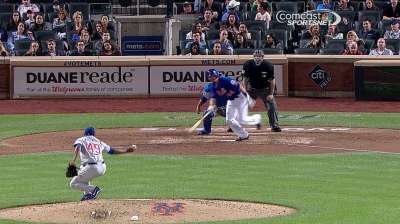 ST. LOUIS -- You will no longer see Carlos Marmol closing for the Cubs.
Manager Dale Sveum said Marmol, who blew a three-run lead in the ninth Sunday against the Mets while subbing for Kevin Gregg, would be back in his role as a late-inning reliever.
"[Marmol] has pitched well in the seventh and eighth and even pitched well in some tie games in the ninth and the 10th inning, too," Sveum said Monday. "Obviously, he's having difficulty with the last three outs and a save. We have our closer [in Gregg] when he has his rest. [Marmol] is back in the same role he was in."
Sunday was Marmol's first save opportunity since April 25, when he was successful against the Marlins. The right-hander began the season as the Cubs' closer but lost that job after the first week of the season, when he struggled against the Braves in the opening series. Gregg was not available Sunday after pitching four straight days.
This is the last year of Marmol's three-year contract with the Cubs, and he is being paid $9.8 million. Releasing him is not an option, Sveum said.
"He's obviously struggled closing," Cubs general manager Jed Hoyer said of Marmol. "He's had a lot of really good outings in low-pressure situations and non-closing roles. I think he has provided value for this team, but he's also been a significant part of the losses, which is unfortunately why we are where we are record-wise."
Sveum knows his decision to stick with Marmol in a save situation was not well-received by fans.
"That's people's prerogative," Sveum said. "I don't really care what people think about me. That's part of this job: to be second-guessed. There's nothing you can do about that. Players are put in positions to perform, and if they don't, the decision making will always be second-guessed. It doesn't matter what the situation is. If I would've put somebody else in who has never closed a game before and they give it up, I'd be in the same boat."
People will always question the manager's decisions -- that's part of the job.
"If Blake Parker goes in that game and blows a save, you ask why Blake Parker was in a save situation," Hoyer said. "In our job, you always try to focus more on the thought process more than the result. If Marmol had walked three guys and got through it, we'd be talking about a four-game winning streak today."
Regarding the job Sveum has done in his second year at the helm, Hoyer said the responsibility for the Cubs' record fell more on him as the GM and Theo Epstein, president of baseball operations.
"I know [Sveum] was frustrated by the game yesterday, like everyone was, but I think he's kept the guys upbeat, and he continues to relate well with the players," Hoyer said. "Like I said at the end of last year, the talent on the team, we're not up to par right now with the Cardinals and the Reds. Those are really strong organizations, and that's what we're trying to get to. He's doing the best with what we have. That's on Theo and me, the talent.
"In a lot of ways, the last nine outs have been a challenge for us, not just the last three," Hoyer said. "We don't have a lot of internal options to go to."
Marmol was a successful closer for the Cubs in 2010 and 2011, totaling 38 and 34 saves, respectively. But in close and late situations this year, teams are batting .308 against the right-hander, compared with .191 in other situations.
"We know that those three outs are very, very difficult to get for some reason," Sveum said.
Who will close for the Cubs when Gregg is not available? One option in the series against the Cardinals is lefty James Russell.
"This is a team you could do it against, because there's no rhyme or reason to matchups or anything," Sveum said. "They're so good against both right-handers and left-handers that you go to maybe your most reliable guy. This is a time where you could use Russell, because there's no real matchups here."
Otherwise, Sveum will go with matchups. Whatever it is, it will not be Marmol.
Carrie Muskat is a reporter for MLB.com. She writes a blog, Muskat Ramblings, and you can follow her on Twitter @CarrieMuskat. This story was not subject to the approval of Major League Baseball or its clubs.