Playing on turf in Toronto, CarGo at DH Monday
Playing on turf in Toronto, CarGo at DH Monday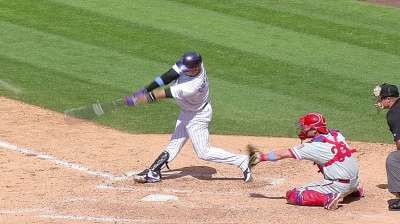 TORONTO -- Rockies outfielder Carlos Gonzalez played through the pain of left knee tendinitis, then suffered a bruised left foot Thursday when he was hit by a foul ball in the on-deck circle, and learned Monday he was still chosen as the National League Player of the Week.
So what is his reward? More potential for pain, thanks to the artificial turf of Rogers Centre.
Actually, Rockies manager Walt Weiss decided Gonzalez would serve as designated hitter for Monday's Interleague game against the Blue Jays, sparing him some additional discomfort in his knee and foot, which are still sore and will be for some time.
"I played here when I was with the A's in 2008, my last time. And when I went to the WBC, I played on turf in Puerto Rico," Gonzalez said. "It's a little different. We don't stay here for too long, then we don't have to play here anymore."
Gonzalez laughed when saying that, not wanting to offend the neighbors to the north. He said he doesn't have concerns about the abrasions that can come from leaping for balls and sliding into the ground, but the general pounding that can come from playing on the surface has entered his mind. Rogers Centre uses the AstroTurf brand, which is a little different from the rubber-and-grass-based Field Turf surfaces seen on youth football and soccer fields.
"I'm not concerned about diving, but my knee doesn't feel very well, and this is the last place you want to be when your knee is sore," Gonzalez said.
Weiss said during this 10-game, three-city road trip, he'll rest or DH players who tend to be in the lineup frequently. He is considering slotting right fielder Michael Cuddyer into the designated hitter role for a game in Toronto.
Thomas Harding is a reporter for MLB.com. Read his blog, Hardball in the Rockies, and follow him on Twitter @harding_at_mlb. This story was not subject to the approval of Major League Baseball or its clubs.