Strong effort from Liriano derailed by home runs
Strong effort from Liriano derailed by home runs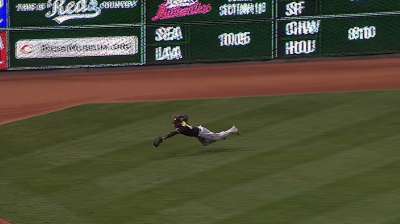 CINCINNATI -- With a chance to move into second place in the National League Central by beating the team in front of them, the Pirates fell just short on Monday, losing to the Reds 4-1 at Great American Ball Park.
Francisco Liriano surrendered two solo home runs, and the Pittsburgh offense didn't do much against Mike Leake and the Cincinnati bullpen. The Pirates dropped to 41-29 and fell 1 1/2 games behind the second-place Reds as both teams chase the Cardinals.
Pittsburgh had its chances, but the Bucs left nine runners on base and were 0-for-9 with runners in scoring position.
"We've been doing a pretty good job thus far," Andrew McCutchen said of converting opportunities. "One game is not a big deal for us. We're going to lose, we're going to win, but we've got to show up tomorrow and be ready to play."
Liriano allowed three baserunners in the first inning, but the 29-year-old lefty escaped without any damage thanks to Russell Martin throwing out Shin-Soo Choo trying to steal.
In the third, Liriano again found himself in trouble when Brandon Phillips hit a rope towards the left-field corner with Joey Votto at second. But Starling Marte, starting his first game after missing four starts with discomfort in his rib cage, made a spectacular diving grab to steal a sure run and end the inning.
McCutchen didn't think Marte had a chance at the ball when it came off the bat.
"Phillips hit it down the line and not too many left fielders are going to make that play," McCutchen said. "People forget, I guess, that Marte is a natural center fielder, too, so he was able to catch up and make a real big play and keep us in the game."
Unfortunately for the Pirates, they wouldn't be so lucky in the fourth. Liriano breezed through the first two hitters on four pitches, but he left a slider a little too far up in the heart of the plate to Zack Cozart, who took the pitch deep to left for the game's first run.
It wasn't until the sixth inning when the Pirates finally scored. After Alex Presley became the third leadoff man in four innings to reach base, McCutchen hit into a fielder's choice. Martin delivered in the next at-bat, hitting a double that was mishandled by right fielder Jay Bruce, allowing McCutchen to score fairly easily from first to tie the game.
In the bottom of the inning, Liriano once again made it through the first two batters without a problem. But just like the fourth, the third batter tagged him, as Todd Frazier connected on a solo shot, giving the Reds a 2-1 lead.
"I remember the last game in one at-bat, [Liriano] tried sneaking a fastball by me and I got a single," Frazier said. "I thought maybe he'd try it again, so I got my foot down a little earlier, and he tried getting that fastball by me and I hit it pretty hard."
Much of the talk in the Pirates' clubhouse before the game was about playing in the tight, hitter-friendly confines of Great American Ball Park. But the two home runs that sunk Liriano were no doubters, traveling 437 and 433 feet, respectively. They were the first two home runs he'd given up this season in eight starts.
"I guess I made two mistakes," Liriano said. "The hanging slider and a fastball right down the middle. You cannot make that many mistakes at this level."
Liriano went six innings, giving up five hits and two walks while striking out six.
Leake gave the Pirates fits for seven innings, attacking the zone and allowing one run on six hits and a walk.
"He keeps the ball out of the middle of the plate [and] he changes speeds extremely well," Pittsburgh manager Clint Hurdle said of Leake. "And he actually, from his perspective with his skill, controls the barrel. He gets you out front, he beats you with fastballs. He's pitching as well as I've ever seen him."
Pittsburgh mounted a final comeback try in the eighth, when McCutchen singled and Martin drew a two-out walk. But Tony Cingrani ended the threat by striking out Pedro Alvarez.
Cincinnati extended its lead in the eighth when Bryan Morris gave up solo homers to Votto and Bruce, setting up Aroldis Chapman for his 18th save.
Monday marked the beginning of the Pirates' sixth four-game series this season, including a two-game home and home with the Tigers. Pittsburgh has lost the first game in each series, only to come back and win the next three every time.
Although McCutchen wouldn't go as far to say this series is the biggest of the year to this point, he admitted it holds a significant importance.
"I treat every series the same, whether they're in our division or not," McCutchen said. "You go out there to win the game, but these four games, now three, are going to be big games to play. The Reds are a good team, and they've shown that all year. It's going to be a grind throughout the next few."
Jeremy Warnemuende is an associate reporter for MLB.com. This story was not subject to the approval of Major League Baseball or its clubs.