Freeman ends Gee's shutout bid with walk-off blast
Freeman ends Gee's shutout bid with walk-off blast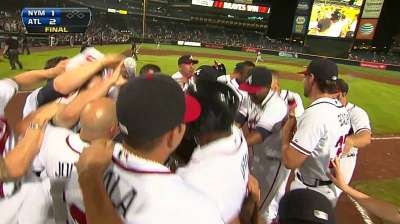 ATLANTA -- After waiting through a rain delay that lasted nearly four hours, the Braves were staring at the possibility of entering Tuesday's doubleheader against the Mets in a foul mood. They were two outs away from suffering their 10th shutout loss and seeing Tim Hudson drop his sixth straight decision.
Instead, that tough-luck loss was pinned upon Dillon Gee, who was bidding for his first career shutout before Freddie Freeman drilled a two-run ninth-inning home run that gave the Braves a 2-1 walk-off win over the Mets on Monday at Turner Field.
"I knew I hit it good enough," Freeman said. "I didn't know if it was going to stay fair because it was an inside pitch, and I didn't know if I would be able to get my hands inside. But once I saw it get up to its highest peak, I knew it was gone."
Freeman's towering home run landed just over the right-field wall around 1:22 a.m. ET on Tuesday. This dramatic conclusion came more than six hours after the game was originally scheduled to begin. A three-hour, 43-minute rain delay was experienced before Hudson threw the first pitch on Monday at 10:53 p.m.
"It was a crazy night," Hudson said. "A lot of people wonder why we even started the game. But we did, and luckily, we came out on top. It was just a bad situation for both teams honestly, for the pitchers and the position players. But you've got to go out there and play it. Luckily, we came out on top."
With a doubleheader scheduled on Tuesday and rain in the forecast throughout the day, the Braves had to make every effort to begin the game. Freeman made sure to make the long wait worthwhile.
Justin Upton sparked the ninth-inning rally with a one-out single. This set the stage for Freeman, who had accounted for two of the three hits Gee had surrendered when he entered the ninth having thrown just 88 pitches.
Gee's 101st pitch of the night was a cutter that Freeman elevated and sent over the right-field wall to give him his second walk-off hit in the past three days and third of the season. His only previous game-ending home run was hit on Sept. 25, 2012, when the Braves clinched one of the National League's Wild Card entries with a win over the Marlins.
"The best two swings we took off [Gee] were the last two," Braves manager Fredi Gonzalez said. "I don't even know who else got hits on him. I know we only had five hits, three going into the ninth. It was nice to see Justin get a base hit there, get himself on base and bring Freeman up to the plate with a chance to do what he did."
Freeman's second-inning double and fourth-inning single accounted for the only hits the Braves produced through the first five frames. With his second straight three-hit game, the 23-year-old first baseman extended his recent offensive surge. He has batted .369 with five home runs and a .990 OPS in his past 31 games.
"He's like the Little Leaguer who shaves already," Hudson said. "He's Kelly from the Bad News Bears."
Hudson allowed six hits and pitched around three walks while allowing just the one run in seven innings. That lone run was scored courtesy of the two-out seventh-inning single Gee slipped through the left side of the infield.
While Hudson was spared losing a game decided by a pitcher who entered the game hitting .100, he will enter his next outing winless since beating the Mets on May 5. In the eight starts that have followed, the 38-year-old hurler has gone 0-5 with a 4.47 ERA.
"I feel good about how I'm throwing the ball," Hudson said. "If I keep throwing it the way I'm throwing, the wins will come. I feel like our team has been playing pretty well. I just happened to be out there on the mound when the other pitcher is throwing a pretty good game."
The only two hits the Mets recorded through the first five innings came courtesy of the consecutive two-out singles David Wright and Lucas Duda recorded in the first. Hudson escaped the first-inning jam by recording the first of his six strikeouts against Marlon Byrd.
After Duda's one-out single gave the Mets runners at first and second base with one out in the sixth inning, Hudson once again escaped trouble by getting Byrd to ground into an inning-ending double play.
"Hudson did his job, he really did," Gonzalez said. "We can't ask any more from him."
Mark Bowman is a reporter for MLB.com. This story was not subject to the approval of Major League Baseball or its clubs.