Four homers back Leake as Reds win series opener
Four homers back Leake as Reds win series opener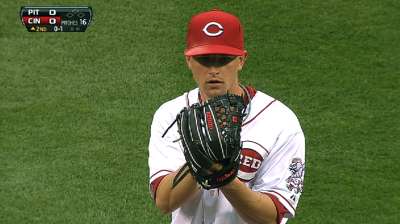 CINCINNATI -- Four Reds hit solo home runs on Monday night against the Pirates that traveled an estimated combined distance of 1,701 feet. Surely, those will make the highlight shows, because homers always draw attention.
On the other hand, in less exciting form, Mike Leake keeps rolling. Leake's seven innings were the foundation of the Reds' 4-1 win at Great American Ball Park, Cincinnati's sixth win in its last eight games.
"He's quietly going on about his business," Reds manager Dusty Baker said. "No fanfare, no difference in personality. It's the same Mike Leake. He's just pitching."
Leake allowed one run on six hits and one walk with three strikeouts. Over his last seven starts (since May 15), he is 5-1 with a 1.15 ERA. He's allowed one earned run or fewer in six of those starts, including six scoreless against Pittsburgh on June 1 at PNC Park.
"I'm doing all right. Just keep it going as long as I can," Leake said.
Overall, Leake is 7-3 with a 2.64 ERA in 14 starts. He's not just solid for a fifth starter, he's been one of the team's best pitchers.
"I think it's mainly just pitching better, mixing it up and kind of breaking down the hitters a little better," Leake said. "In my mind right now, this is probably the best [I've pitched]."
Pirates manager Clint Hurdle is among those impressed by Leake.
"He's been doing this for three months now and building up to this," Hurdle said. "He's a good pitcher. When you look at that young man, he's drafted in the first round, the [eighth] pick in the nation [in 2009]. That's not projecting a frame, that's not getting a 6-4, 220-pound guy that's going to be a horse. That's a guy that can pitch, and that's what he's evolved into, and that's what he does.
"He keeps the ball out of the middle of the plate, he changes speeds extremely well. And he actually, from his perspective with his skill, he controls the barrel. He gets you out front, he beats with you fastballs. He's pitching as well as I've ever seen him."
Back in Spring Training a few months ago, Leake wasn't even a sure thing to make the Reds' rotation. He was the underdog and the less popular candidate in what was expected to be a fifth-starter battle against Aroldis Chapman.
Of course, Chapman was returned to his closer role and Leake got the spot. Then Leake fended off a challenge from prospect Tony Cingrani, who was called up in May for an injured Johnny Cueto.
"I'm happy for him. He's a warrior," said Reds third baseman Todd Frazier, who hit the sixth-inning homer that snapped a 1-1 tie. "Coming into this year, there were a lot of doubters and naysayers. At the same time, he understood that he belongs here. That's what he shows -- confidence and poise."
As Leake was keeping Pittsburgh quiet, Pirates lefty starter Francisco Liriano did the same to the Reds in the early going. The game was scoreless until two outs in the bottom of the fourth. That's when Cozart attacked Liriano's 2-2 hanging slider for a solo homer to the left-field upper deck that had an estimated distance of 437 feet. It was Cozart's seventh homer of the year.
Leake kept the Pirates at bay through five scoreless innings, but he gave up a run in the sixth. With two outs and Andrew McCutchen on first, Russell Martin lined a double to right field. Jay Bruce made a sliding stop to keep the ball from rolling to the wall, but McCutchen scored easily to tie the game.
Frazier put Leake and the Reds ahead once again in the sixth. On a first-pitch fastball from Liriano, Frazier mimicked Cozart with a solo homer to the upper deck in left that traveled 443 feet for his ninth homer run of the season.
Cincinnati added two more homers in the eighth. Joey Votto had the wall scraper of the bunch, as he sent a 3-2 Bryan Morris pitch for a 385-foot homer to the first row in left. Votto has 12 homers on the year. Two batters later, Bruce lifted a 436-foot shot to left-center field for his third homer in the last four games and 13th of the year.
Leake and the Reds' bullpen didn't need the padding. In the seventh, Leake gave up a leadoff walk to Neil Walker but left him stranded at second.
"He's the same pitcher, just new and improved, that's all," Baker said of Leake. "He's improved over where he was two years ago. Don't forget that two years ago, he was one of our best starters. How soon we forget, and just realize this guy is real young and still learning."
Sam LeCure and Cingrani worked a scoreless eighth, but not without drama. LeCure gave up a one-out single to McCutchen before giving way to the lefty Cingrani, who was summoned to face Garrett Jones for his first relief appearance of the season. Pittsburgh countered with righty hitter Gaby Sanchez as a pinch-hitter.
"We knew he would bring in Sanchez," Baker said. "Both of them are dangerous hitters. We chose Sanchez tonight."
After three straight balls, Cingrani rallied to get Sanchez for a called third strike, but then walked Martin in an eight-pitch sequence. Pedro Alvarez struck out to end the inning.
Following the two eighth-inning homers, Aroldis Chapman pitched a scoreless ninth for his 18th save.
At 43-28, the second-best record in baseball, the second-place Reds inched to 1 1/2 games ahead of the third-place Pirates (41-29) in the National League Central.
Mark Sheldon is a reporter for MLB.com. Read his blog, Mark My Word, and follow him on Twitter @m_sheldon This story was not subject to the approval of Major League Baseball or its clubs.