Bidding for shutout, Gee allows walk-off homer
Bidding for shutout, Gee allows walk-off homer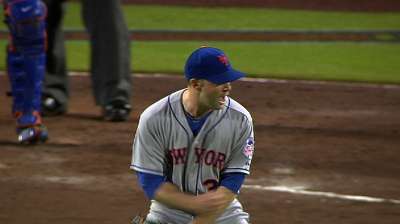 ATLANTA -- Starring Matt Harvey and Zack Wheeler, Tuesday's Mets doubleheader promises all the elements of a landmark day. Manager Terry Collins called it a glimpse into the future. General manager Sandy Alderson recently referred to it as evidence that his blueprint is coming to life.
The only catch was the Mets had to make it there first.
Tuesday's prelude was a more than six-hour marathon Monday night at Turner Field, where the Mets lost a painful 2-1 game to the Braves after waiting out a three-hour, 43-minute rain delay. Taking a shutout into the ninth, Dillon Gee served up a two-run walk-off homer to Freddie Freeman to end things.
"When it comes down to it, I just couldn't get it done," said Gee, who allowed a one-out single to Justin Upton before Freeman's blast. "I had the opportunity and couldn't finish it."
"I knew I hit it good enough," Freeman said. "I didn't know if it was going to stay fair because it was an inside pitch, and I didn't know if I would be able to get my hands inside. But once I saw it get up to its highest peak, I knew it was gone."
With that, the Mets drove to their hotel rooms to catch a few hours of sleep, with plans to wake up tired and climb aboard a bus bound once again for Turner Field.
For a long while, it seemed as if Monday's game might never happen. A white tarp blanketed the field as the game's scheduled 7:10 p.m. ET first pitch came and went, while a steady rain fell over metropolitan Atlanta. The precipitation eventually slowed, and for a time stopped altogether, prompting the grounds crew to remove the tarp and work on the field. But with more rain in the forecast, umpires ordered the crew to stand guard over the tarp as both teams waited in their respective dugouts.
Hours passed. The tarp came off once more, then immediately went back on. Gee warmed up, sat down, then warmed up again. At one point, David Wright emerged from the visiting dugout to sign autographs for fans. But still no baseball.
"I didn't actually know we were playing until they took the field," Gee said. "And then I jumped on the mound real quick and threw maybe 15 pitches, and then we went."
Finally, at 10:53, Tim Hudson delivered his first pitch to Juan Lagares, a fastball high and away. The Mets and Braves sped through six scoreless innings from there, until Gee cracked a two-out RBI single through the left side of the infield, plating John Buck with the game's first run in the seventh.
After such a long wait, the pace of play was almost comical. Nearly half of the batters from both teams swung at the first pitch over the first six innings, resulting -- once it started, of course -- in one of the most rapid games of the season.
But it was a game that also meant plenty to the Mets, who were looking to build upon the momentum of Sunday's walk-off win over the Cubs. Before the rains arrived, Collins spoke of using that victory as "a springboard forward" to "something positive." With that in mind, he engineered a major shakeup by moving Daniel Murphy back to second base and Lucas Duda to first.
One of Collins' hopes was that in returning to his natural position, Duda would feel more comfortable at the plate. Whether it was coincidence or not, the outfielder-turned-infielder immediately responded with a career-high four hits in four at-bats. Duda also made a fantastic pick of a throw in the dirt in the eighth, after Murphy ranged to make two athletic plays in the inning.
Perhaps the only Mets player with more at stake was Gee, one of three pitchers in danger of losing his job once Collins' six-man rotation shaves back down to five. Though that risk is more tangible than ever now with Wheeler in uniform, Gee has recently morphed into the Mets' most consistent pitcher. Because of that, Collins said that Gee "deserved" his shot at a complete game; the right-hander was only going to depart the mound if Freeman reached base.
"He deserved to go out there in my opinion," Collins said. "He was mowing them down pretty good, so I thought he deserved to go out there. And if you're going to send them out there, you've got to let him have a chance. If you're just going to take him out after the first guy gets on, you shouldn't send him out."
Despite the walk-off, Gee still gave the Mets his fourth consecutive outing of at least 6 2/3 innings and two or fewer runs allowed. But he could take little solace from it.
"It's tough after something like this to be pleased," Gee said. "To go out there and have an opportunity to throw a complete game and get a win for the team, it's tough to be pleased if we lose. And we lost. That's the bottom line."
Anthony DiComo is a reporter for MLB.com. Follow him on Twitter @AnthonyDicomo. This story was not subject to the approval of Major League Baseball or its clubs.