Crain ties club mark as bullpen helps Sox halt skid
Crain ties club mark as bullpen helps Sox halt skid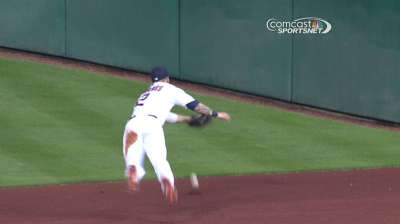 HOUSTON -- Throughout the course of this four-game wraparound weekend series for the White Sox against the Astros, local product Jesse Crain had about 120 friends and family members come through Minute Maid Park.
It wasn't until a 4-2 victory Monday night that those who are close to the White Sox reliever got to see him pitch. And Crain made it worth their while.
His 1 2/3 innings not only kept the White Sox (29-38) in control, but also marked his 27th straight scoreless appearance, tying J.J. Putz's franchise record. Crain's three-strikeout performance, preceded by Nate Jones (3-4) and followed by Addison Reed (20th save), completed 4 1/3 innings of scoreless relief from Chicago's bullpen.
But the postgame focus was on the record-tying Crain.
"Jesse has been great for us in any situation," White Sox manager Robin Ventura said. "Any big moment for us, he's been there."
"That's exciting, but it's just another day and I'll try to take the next day as it comes and go pitch by pitch," Crain said. "It's exciting to have your name in the record book. I'm looking forward to tomorrow when I'm back out there."
Throughout the White Sox four-game losing streak, including the first three against the Astros (26-45), and their 4-14 dismal run coming into Monday, the team had been talking about simply needing just one key hit and/or one big pitch to start to turn things around.
Both of them appeared in the series finale.
Dayan Viciedo had the big moment with the bat in the sixth, after Paul Konerko singled home Alejandro De Aza off Bud Norris (5-7) and Conor Gillaspie's infield single loaded the bases with two outs. Viciedo launched a two-strike slider to straightaway center, with Brandon Barnes giving immediate chase.
Barnes caught a 410-foot blast off Viciedo's bat running up Tal's Hill on Sunday, but his attempt did not meet with the same success on this occasion. Viciedo's triple cleared the bases and turned a 2-1 deficit into a 4-2 lead.
Viciedo had one triple over his first 869 career at-bats. He knocked out two triples over a five at-bat span in this series.
"I'm just playing in a big field and I'm taking advantage," said Viciedo through White Sox translator and coach Lino Diaz, with Monday's three-base hit producing one more RBI than he previously had in all of June. "I feel good. I felt like I was making better contact, but there also are a couple of things where I need to get better."
"We got lucky with the placement of some balls, but again when you put guys in situations with a lot of guys on, it becomes different where the bases are loaded and guys are standing all over the place," Ventura said. "It was good for us to put pressure on them and Tank finally comes through."
Jose Quintana started for the White Sox but lasted only 4 2/3 innings, when his pitch total rose to 104. He struck out five and walked three, having now made nine starts over May and June with just one win.
Jones replaced Quintana in the fifth and pitched out of a two-on, two-out jam by fanning Chris Carter, but departed in the seventh after Barnes and Jose Altuve singled to open the frame. Matt Thornton struck out Jason Castro with runners on first and third and nobody out, after Castro took him deep on Sunday, setting the stage for Crain.
He went to a full count against J.D. Martinez, but struck him out swinging and then fanned Carter swinging on an offspeed pitch. Since Crain hadn't pitched since last Monday, he was able to go 1 2/3 innings and tie Putz's 2010 scoreless effort, while improving his consecutive scoreless innings stretch to 27.
All of this was accomplished in front of his anxiously awaiting support system.
"They didn't know but it's fun to just pitch in front of them," said Crain, whose ERA dipped to 0.57 after making his 31st scoreless appearance overall out of 33. Opposing hitters are 5-for-33 against him with runners in scoring position, and Crain hasn't allowed a run since April 12.
"We had first and third with nobody out and the guys we had coming up, you figure we're gonna push a couple runs across and get right back in it," Houston manager Bo Porter said. "Their guy did a really good job making quality pitches to get out of it."
This season-long dominance from Crain, coupled with the club's season-long futility, has made the right-hander in the final year of a three-year deal the target of trade rumors. He could close for a contending team and bring Chicago back solid prospects in return.
Instead of going somewhere else, though, Crain prefers to enjoy the quirky postgame victory music selection as part of the White Sox, with "We are the World," "Man in the Mirror" and "Purple Rain" being part of Monday's playlist.
"For sure, I don't want to go anywhere. I love playing with these guys," Crain said. "It's something that I don't try to get too caught up in.
"There are always rumors out there. Obviously we need to turn things around and start winning. We've been struggling and getting this one and avoiding the sweep, hopefully we can start a new winning streak and win tomorrow and get three wins in a row and you are on a streak. That's what we are going for. Take it day by day."
Scott Merkin is a reporter for MLB.com. Read his blog, Merk's Works, and follow him on Twitter @scottmerkin. This story was not subject to the approval of Major League Baseball or its clubs.