Marte back in Pirates' starting lineup
Marte back in Pirates' starting lineup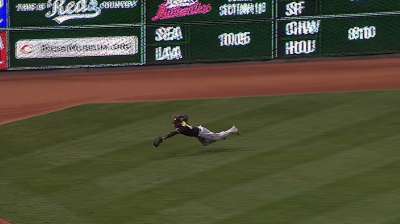 CINCINNATI -- Outfielder Starling Marte was back in the Pirates' starting lineup on Monday after missing time with discomfort in his left rib cage.
Marte was scratched before Thursday's game against the Giants and didn't start the next three games. He entered Sunday's win against the Dodgers in the sixth inning and finished the game, leaving manager Clint Hurdle confident Marte was ready for a pivotal series against the Reds.
"I told [Marte], 'Either you can play, or you can't play. This isn't tryout time. If you're going to go out there, you're going to go out there,'" Hurdle said. "He assured us he can play. His workout today was strong, he was out for early BP, he was running [and] he was moving around. We feel comfortable with him being out there."
In the third inning of Monday's 4-1 loss to the Reds, Marte made a fully extended diving catch in left, robbing Brandon Phillips of an RBI extra-base hit. But he struggled at the plate, going 0-for-5 with two strikeouts. For the season, he's batting .281 with six homers, 19 RBIs and 20 stolen bases.
"We like him at the top of the lineup," Hurdle said. "He gives us a different look. He can get some things done in left field as well, and he can get some things done on the bases."
Jeremy Warnemuende is an associate reporter for MLB.com. This story was not subject to the approval of Major League Baseball or its clubs.