Cingrani to stick around, pitch out of bullpen
Cingrani to stick around, pitch out of bullpen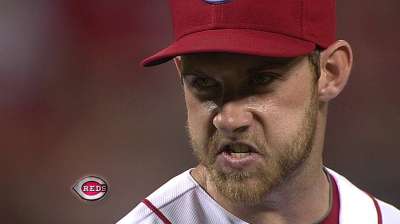 CINCINNATI -- Lefty pitcher Tony Cingrani doesn't know what his role will be and doesn't particularly care if it means he's staying in the big leagues with the Reds.
Cingrani was called up from Triple-A Louisville to start vs. the Cubs on Tuesday in place of injured ace Johnny Cueto. When Cueto successfully returned to face the Brewers in Sunday's 5-1 victory, Cingrani was kept around to back up, just in case.
The Reds plan to keep Cingrani in the bullpen for the time being.
"Whenever they call my name, I'll be right there," Cingrani said on Monday. "I'm happy to be here. Whatever they want me to do. If this is what they need, it's what they need."
Reds manager Dusty Baker did not detail the team's plan for Cingrani's role.
"He's going to stay here," Baker said. "We'll just have to see. I haven't told him exactly yet."
Things became clearer during Monday's 4-1 win over Pittsburgh. Cingrani was summoned to replace Sam LeCure in the eighth inning and face lefty Garrett Jones with a runner on first base. The Pirates countered with right-hander Gaby Sanchez, who struck out. Cingrani walked Russell Martin, but escaped the jam by striking out Pedro Alvarez.
The Reds have been short a left-hander since Sean Marshall went back on the disabled list May 24 with a shoulder injury. Manny Parra was the lone non-closer lefty in the bullpen, until now. The bullpen has taken some lumps over the past week to 10 days, and also saw righty setup man Jonathan Broxton go on the DL.
"[Cingrani] fills what we need. We need a power arm in the bullpen, and a left-hander," Baker said.
Cingrani, who is 3-0 with a 3.15 ERA, 10 walks and 46 strikeouts in seven starts, was a closer for Rice University, and he made three relief appearances last season for Cincinnati as a September callup. He threw on the side three days ago to prepare for a possible start on Sunday. He also warmed up during the game.
"I've been there before. If it was brand new, maybe I wouldn't be [comfortable]," Cingrani said.
When Cueto returned in May from his first DL stint, Cingrani was sent back to Louisville to work on his secondary pitches. That won't be an issue as much in the current relief role, and there wasn't concern that working as a reliever will stunt Cingrani's growth as a starter.
"In the organizations I've been in, this is probably the best kind of role to be in as a young player," Baker said. "We started [Rick] Sutcliffe, Bobby Welch, and we started [Dave Stewart in the bullpen] with the Dodgers. Nolan Ryan started out in the bullpen. Pedro Martinez and his brother [Ramon] both started out in lesser [roles]."
Mark Sheldon is a reporter for MLB.com. Read his blog, Mark My Word, and follow him on Twitter @m_sheldon This story was not subject to the approval of Major League Baseball or its clubs.