Carrasco's strong start ends with Indians' loss
Carrasco's strong start ends with Indians' loss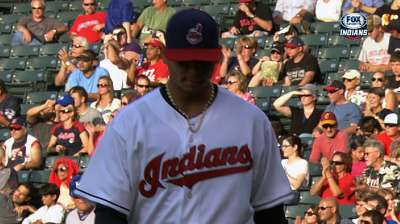 CLEVELAND -- Indians starter Carlos Carrasco pitched well enough to earn his first victory of 2013, but the bullpen let things get away and the offense couldn't keep up.
Carrasco -- making his first start since serving a seven-game suspension -- left with one out and a man on second in the eighth inning, while the Indians led by one run. The Royals tied the game after Bryan Shaw came on for relief before scoring the go-ahead run an inning later on a wild pitch from Matt Albers that went through catcher Carlos Santana's legs.
Just like that, all the fine work Carrasco put in was wasted, as the Tribe dropped Monday's series opener, 2-1.
"He was so good," manager Terry Francona said. "[He] used his fastball [on] both sides of the plate, went to his breaking ball later in the game, when they had seen him a couple times. Good pitch sequencing. I thought Carlos [Santana] called a really good game. They worked really well together.
"That's probably a little bit much to ask for every outing, but boy, I'll tell you what, that's what we've kind of been hoping for."
Carrasco began by the game by retiring the first 13 Royals hitters until Lorenzo Cain singled to right with one out in the fifth. The right-hander left to a warm round of applause after tossing 7 1/3 innings. Carrasco allowed one run and four hits, while striking out four and walking one.
"I just feel good," Carrasco said. "The way that I did today, I feel fine."
When Shaw entered, he recorded an out before allowing a bloop double to Eric Hosmer, which let Chris Getz race home with the tying run. Previously, Shaw had stranded nine straight inherited runners.
"Actually, Shaw made a really good pitch," Francona said. "He jammed him and got the little bleeder."
At the time of his exit, Carrasco had thrown 90 pitches. The right-hander said he would have liked to stay in, but Francona didn't think that would have been the best thing for Carrasco, whose recent appearances have been limited to a simulated game last Thursday and a June 8 outing in Detroit.
"He hasn't been stretched out like everybody else," Francona said. "I'd hate for him to lose it. I just didn't think that was fair to him."
Kansas City grabbed its only lead in the ninth. Elliot Johnson entered to run for Billy Butler after a leadoff double. With runners on first and second after a walk to Lorenzo Cain, David Lough's bunt single moved Johnson to third before he scored the go-ahead run on Albers' wild pitch with Miguel Tejada at the plate.
"I was just trying to throw a curveball, down," said Albers, who was looking for a strikeout. "I threw it a little bit too far in the dirt.
"It didn't really miss by too much, but maybe just a little shorter than I'd like. But, I definitely was trying to miss for a ball down."
The Indians squashed a potentially bigger inning, when, after an intentional walk to Getz loaded the bases, third baseman John McDonald fielded Alcides Escobar's bunt squeeze and fired home to force out Cain, who hesitated between third and home. Alex Gordon's flyout ended the threat.
Santana belted a first-pitch heater from Royals starter James Shields into the right-field seats -- his 10th of the season -- to give the Indians a 1-0 lead in the sixth.
In the process, Santana extended his hitting streak to nine games, during which he's batting .400 (10-for-25) with two home runs and seven RBIs.
Cleveland left the bases loaded in the third and fifth innings. The Indians also stranded the potential tying run at third base in the ninth after Michael Bourn's one-out double. After moving to third on a wild pitch, Royals closer Greg Holland struck out Mike Aviles and induced Jason Kipnis' grounder to second for the final out.
"We had a couple chances and couldn't cash in," Francona said. "Shields never gives in. He can throw all his pitches at any count. That's why he's so good. I mean, you look at his numbers, he's pitched into some really tough luck this year."
Shields exited after six innings. Kansas City's ace, who entered Monday as one of only 10 American League pitchers with a sub-3.00 ERA, allowed just one run. He gave up four hits, walked four batters and racked up five strikeouts.
As for Carrasco, he lowered his ERA from 15.26 to 8.40. Of his 90 pitches, 58 were strikes. Carrasco started with first-pitch strikes on 16 of the 27 batters he faced.
"He didn't give us anything," Royals manager Ned Yost said. "He threw the ball extremely well. I was really impressed -- his fastball was 95 to 97, he had a tremendous slider and a nasty, nasty changeup. You look at his numbers going into the game and his stuff wasn't indicative of those numbers. He handcuffed us for a long, long time."
Carrasco had lost both of his previous two outings this season. Over a combined 7 2/3 innings, he allowed 17 hits and 13 runs, while walking five and striking out three.
"I kept waiting to see the guy that had given up 17 hits in seven innings and we didn't see that today," Yost said. "He was phenomenal."
Mark Emery is an associate reporter for MLB.com. This story was not subject to the approval of Major League Baseball or its clubs.