Royals' 'wild' win over Tribe nets second place
Royals' 'wild' win over Tribe nets second place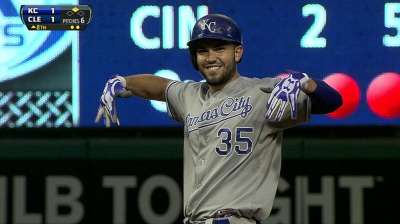 CLEVELAND -- Who are these guys, anyway? They're at .500, they're in second place in the American League Central and they've won 11 of their last 13 games.
You might be surprised to learn that these guys are the Kansas City Royals. The same team that just two weeks ago was nine games under .500, was in last place and had lost 22 of the previous 28 games.
The Royals are in second place by the skin of their teeth, just a half-game, but that's exactly how they got there -- with a 2-1 victory over the now third-place Cleveland Indians on Monday night at Progressive Field.
"We're going in the right direction. We never gave up and we never gave in," starter James Shields said. "We believed in ourselves and it's showing here in June."
"It's been a hard road back, but we've been playing well," designated hitter Billy Butler said. "The team's got some confidence."
The Royals snapped a 1-1 tie in a ninth inning that looked so much more promising than the one run it produced. Butler led off with a double and Elliot Johnson ran for him. Lorenzo Cain walked and David Lough bunted.
"I was pretty confident when I put it down," Lough said. "I kind of knew it was in a good spot."
Was it ever. Left-hander Rich Hill, who had just entered the game, charged off the mound and slipped onto his backside as he tried to grab the bunt. Lough had a single and the bases were loaded with no outs.
Miguel Tejada, a right-handed batter, came out to pinch-hit for Mike Moustakas and the Indians countered with righty Matt Albers. On a wild pitch, Johnson dashed home with the go-ahead run and that was all the Royals would get.
"But it was enough. That's all that matters," manager Ned Yost said.
Tejada lined out and Chris Getz was intentionally walked to again load the bases. The Royals tried to catch the Indians off guard with a suicide squeeze but instead Cain, the runner at third base, was caught off guard. He didn't hear the verbal sign for squeeze play from third-base coach Eddie Rodriguez. So when Alcides Escobar bunted, Cain was surprised, enabling third baseman John McDonald to field the bunt and force him out at the plate.
"That was all me. Eddie said he told me it was on and I didn't hear," Cain said. "So it was all my fault. I was like a deer in the headlights."
Alex Gordon flied out and the inning was over. That left it up to closer Greg Holland and he got the save with the tying run lurking at third base.
Michael Bourn hit a one-out drive to deep left field but Gordon, rushing to corral the ball, held him to a double. Right after that, Holland wild-pitched Bourn to third.
"The key to that play was Gordy getting over there and keeping him to a double because, with his speed, if he's on third base the wild pitch ties the game," Yost said.
Holland then struck out Mike Aviles and got Jason Kipnis to roll out, ending the game.
The game began with Indians starter Carlos Carrasco dominating the Royals -- he retired the first 13 batters -- and Royals starter Shields battling his lack of control -- he had to pitch out of two bases-loaded jams.
"I didn't have my good stuff today, I got away with a couple bad innings there," Shields said. "That team really worked the count against me and got my pitch count up. That's just part of the game."
Shields had burned up 100 pitches through just five innings and, in the sixth, his 101st pitch was lined into the right-field seats by Carlos Santana, the Indians' catcher. But that's all they'd get off Shields.
"We had a couple chances and couldn't cash in," Indians manager Terry Francona said. "Shields never gives in. He can throw all his pitches at any count. That's why he's so good. I mean, you look at his numbers, he's pitched into some really tough luck this year."
Carrasco kept the Royals scoreless into the eighth when, after Getz singled and Escobar bunted him to second, reliever Bryan Shaw took over. After a second out, Eric Hosmer dumped a run-scoring double into center field. When it left the bat, though, Hosmer wasn't so sure it would fall safely as shortstop Aviles, second baseman Kipnis and center fielder Bourn gave chase.
"I thought it had a chance," Hosmer said. "I saw Mikey [Aviles] just give it a dead-out sprint so I knew Kipnis and Bourn didn't have a chance, but I was kind of worried about Mikey."
When it was over, Royals reliever Aaron Crow had the victory and, for the ninth straight start, Shields did not.
"He just pitched his heart out," Yost said. "I wish we could score him some more runs and get him a 'W' because it's been quite a long streak since he's gotten one. But at least we've won his last four starts and that's what's important."
Shields' ERA of 2.72 stands as sixth-best in the American League but his record is stalled at 2-6.
"That's OK, man," Shields said. "The team win is all I care about. My goal is to go to the playoffs and win a championship here and anytime we win a ballgame when I'm on the mound I'm happy."
So there they were, holding an even 34-34 record.
"It's time to get over .500 and stay over .500," Cain said.
And they were in second place, albeit just barely, in the AL Central.
"We'll take it," Cain said. "It's better than last place."
Dick Kaegel is a reporter for MLB.com. This story was not subject to the approval of Major League Baseball or its clubs.