Arrieta struggles in spot start, optioned after O's loss
Arrieta struggles in spot start, optioned after O's loss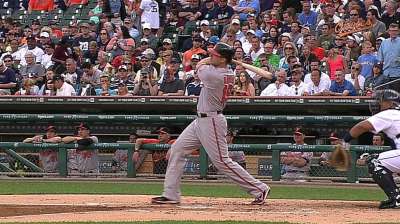 DETROIT -- With Baltimore down two-fifths of the regular rotation by game time, right-hander Jake Arrieta had a chance to make a good impression in facing a lethal Tigers lineup for Monday night's spot start.
Instead, Arrieta struggled with his location, allowing five runs over 4 2/3 innings, and was optioned back to Triple-A Norfolk following the Orioles' 5-1 series-opening loss in front of 32,525 at Comerica Park. The defeat evened the season series between the two clubs at two apiece and was the third loss in nine games for an Orioles club -- fresh off taking three of four from the Boston Red Sox -- that has a Major League-leading 15 series wins.
"I just wasn't very good," said a downtrodden Arrieta, who allowed 10 hits in the 82-pitch outing. "That's pretty much all I need to say. I just wasn't very good today."
Arrieta -- filling in for Jason Hammel, who is dealing with a stomach virus -- won the final rotation spot out of Spring Training but has been unable to translate the success of a strong Grapefruit League campaign into this season's results. In five Major League starts, the 27-year-old Arrieta -- making his first appearance for the Orioles (40-31) since April 21 -- has a 7.23 ERA and has not recorded an out in the sixth inning. He now has back-to-back starts for the O's in which he failed to complete a full five frames.
"He's lucky," Orioles manager Buck Showalter said of Arrieta's performance. "In this ballpark ... at our place and a few other places, it'd been really tough.
"Stuff, that's never really been an issue with Jake. It's just command. He elevated some balls."
Arrieta couldn't match the effort of Detroit's righty Max Scherzer, who struck out 10 over six innings and became the first Tigers pitcher since George Mullin in 1909 to start the season 10-0.
"He's gotten into a pretty good rhythm mechanically, and that's a big thing with Max," Tigers manager Jim Leyland said of Scherzer, who has five games with 10 or more strikeouts this season. "Some pitchers are mechanically oriented, and some aren't. Max is one of those guys who is very sensitive about his mechanics. He concentrates on them a lot, watches a lot of film and things like that."
The Orioles' offense let Scherzer off the hook several times in the 113-pitch outing, leaving eight men on base over his six frames. After stranding a pair of fourth-inning singles, the O's loaded the bases in the fifth, when Ryan Flaherty drew a leadoff walk and Nate McLouth followed with a single. Scherzer got a pair of strikeouts of Manny Machado and Nick Markakis, and Adam Jones kept the inning alive with a single up the middle to bring Chris Davis up to the plate. But Davis, who belted his Major League-leading 24th homer off Scherzer in the second inning, went down swinging at a 97-mph fastball.
"He was just coming after me," Davis said of the at-bat. "I mean, staying on the outside part of the plate. He gave me a good pitch to hit, the changeup that I fouled off, left over the middle. It just had enough movement on it. Of course, when you're throwing 96, 97, 98 [mph] that helps. Stayed away with the heater last pitch. It was a ball. When you're throwing that hard and you're throwing a number of pitches for strikes, you assume that he's going to throw a strike. I was looking for a ball over the plate. He got me to chase."
"You have one of the American League's best pitchers going up against one of the American League's best hitters of the time," Leyland said of the showdown, which ended with the Tigers crowd on its feet to salute Scherzer. "That's a nice challenge for the fans, and tonight Max won the challenge."
Scherzer scattered seven hits and two walks, lowering his ERA to 3.08 and strengthening his All-Star starter status in the process. He worked with a lead from the first inning on as Arrieta surrendered a two-run homer to reigning Triple Crown winner Miguel Cabrera seven pitches into the game. Cabrera -- who has three homers in four games against the O's this season -- sent the first pitch he saw, a slider, over the right-center-field wall to also score Austin Jackson, who singled in Detroit's third run in the second inning.
"I watched it on replay a couple times, and by the swing you think it might be a fly ball to right field," Arrieta said of Cabera's homer. "But the strength he has in that swing, that ball ends up in the seats.
"That's tough. I can obviously be a little bit more down with that pitch, but I'll tip my hat to him there. As far as the rest of the game goes, a lot of the hits were on heaters that were just elevated."
Arrieta allowed another pair of runs in the fifth on Victor Martinez's sacrifice fly and a two-out single from Jhonny Peralta before Showalter went to his bullpen. Orioles lefty Troy Patton followed Arrieta with 2 1/3 scoreless innings, and Pedro Strop, pitching for the first time in five days, tossed a scoreless eighth.
"He threw the ball well tonight, and hopefully it's a step in the right direction," Showalter said of Strop. "We're going to need him. We're going to need that right-handed arm down there to take some of the load off our guys."
Drew Smyly followed Scherzer, and the lefty picked up his second save of three or more innings this season.
Brittany Ghiroli is a reporter for MLB.com. Read her blog, Britt's Bird Watch, and follow her on Twitter @britt_ghiroli. This story was not subject to the approval of Major League Baseball or its clubs.