Injured top Blue Jays prospects on the mend
Injured top Blue Jays prospects on the mend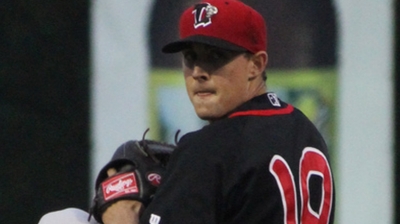 Injuries forced right-handers Aaron Sanchez and Roberto Osuna and left-hander Daniel Norris, the Blue Jays' top three prospects, onto the disabled list in the Minor Leagues in the past six weeks. Slowly, but surely, all three are beginning to return to action.
Osuna was the first to get back on the mound, throwing five shutout innings for Class A Lansing on June 9. While the Blue Jays don't want to publicly commit to a timeline for Sanchez's and Norris' return, assistant general manager Tony LaCava said both should be pitching again soon.
"Both guys are champing at the bit to get back," LaCava said.
Sanchez, the Blue Jays' No. 1 prospect, has been on the disabled list since he suffered a shoulder injury on May 18. LaCava said Sanchez is now pain-free and making progress with his throwing program.
Sanchez was pitching well at Class A Advanced Dunedin before his injury. He was 2-2 with a 3.16 ERA and a 37-to-16 strikeout-to-walk ratio in 42 2/3 innings. Sanchez is ranked No. 32 on MLB.com's Top 100 prospect list.
Norris hasn't pitched since June 9, when a sore forearm forced him out of his start with Lansing in the second inning. An MRI revealed no structural damage, which means the Blue Jays' No. 3 prospect is on track to return soon.
"Norris also is pain-free and is about to start a throwing program," LaCava said.
This is Norris' first year in full-season ball. He is 0-4 with a 5.80 ERA. He has struck out 48 batters and walked 29 in 45 innings.
Teddy Cahill is a reporter for MLB.com. Follow him on Twitter at @tedcahill. Evan Peaslee is an associate reporter for MLB.com. This story was not subject to the approval of Major League Baseball or its clubs.