Utley nearing rehab stint; Ruiz nearing return
Utley nearing rehab stint; Ruiz nearing return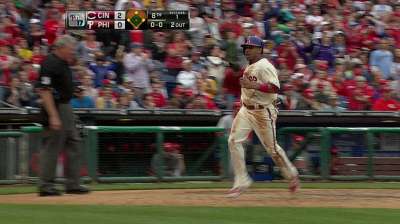 PHILADELPHIA -- Chase Utley took swings toward the end of the Phillies' batting practice Monday, and it may not be too long before he is doing the same thing in a game at Citizens Bank Park.
The second baseman has been on the disabled list since he strained his right oblique four weeks ago, but he is planning to go on a rehab assignment by Wednesday. Utley said he does not have a timetable on how long he would need before he rejoined the Phillies, and noted it's all about how he feels during his rehab stint.
"I don't want to rush back," Utley said. "I want to make sure I don't reinjure it. I have to play it smart."
Phillies general manager Ruben Amaro Jr. also said he was unsure how long Utley's assignment would take, but he guessed it would be "a couple of games."
Utley, who has not played since May 20, has been doing some activities like fielding grounders for more than two weeks, but he held off on motions that are more stressful on the oblique -- like throwing and swinging -- until the last week. The five-time All-Star said everything has gone well since he's starting taking cuts again.
"I feel more comfortable doing it [now]," Utley said. "When I started swinging, I was obviously a little apprehensive, but it's worn off."
Utley is hitting .272 with seven homers and 25 RBIs in 44 games this season.
In other Phillies injury news, there is a good chance catcher Carlos Ruiz could be back with the team in the near future.
Ruiz strained his right hamstring while running the bases on May 19, but played a game for Triple-A Lehigh Valley on Saturday. The 34-year-old originally said he was aiming at rejoining the Phillies by this Friday, and Amaro said it may happen even sooner.
"Chooch did very well. We may move his timetable up a little bit, we may not," Amaro said. "We'll talk to him again after today's workout and see how he's feeling. There's a possibility we can be a little quicker on him. He's doing well."
Ruiz's return would be a big lift to the Phillies as his backup, Erik Kratz, injured his knee on June 8 and is also on the disabled list.
Stephen Pianovich is an associate reporter for MLB.com. This story was not subject to the approval of Major League Baseball or its clubs.