Nationals agree to terms with 22 draftees
Nationals agree to terms with 22 draftees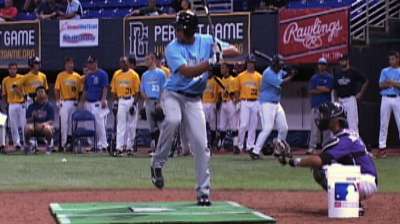 With their top pick, Jake Johansen, locked up to a contract less than 24 hours after the First-Year Player Draft, the Nationals continued in that direction on Monday, when they announced that 22 picks have been signed.
Without a first-round selection this year, Johansen was their top choice. The power right-handed arm was selected 68th overall out of Dallas Baptist University in Texas.
The Nats have also come to an agreement with third-round pick Drew Ward, a rare junior out of Leedey (Okla.) High School. The 17-year-old has shown raw power and had a commitment to the University of Oklahoma, but the Nationals were able to lure him away. Because of his power and his profile as a corner infielder, Ward is expected to convert from shortstop to third base.
The Nationals have signed eight of their first nine Draft picks. Fourth-round selection Nicholas Pivetta, a right-hander out of New Mexico Junior College, is the only one from the top 10 rounds who has yet to sign.
The list of signees includes right-hander Austin Voth (fifth round), third baseman/catcher Cody Gunter (sixth round), first baseman Jimmy Yezzo (seventh round), left-hander David Napoli (eighth round), right-hander Jake Joyce (ninth round), shortstop Brennan Middleton (10th round), shortstop David Masters (14th round), center fielder William Ballou (15th round), left-hander Cory Bafidis (18th round), left-hander Niko Spezial (19th round), left-hander Justin Thomas (21st round), shortstop Cody Dent (22nd round), right fielder Garrett Gordon (23rd round), right-hander Matt DeRosier (24th round), left-hander Travis Ott (25th round), left-hander Joey Webb (28th round), right-hander Michael Sylvestri (29th round), right-hander Ryan Ullman (30th round), shortstop Willie Medina (31st round) and left-hander Jake Walsh (34th round).
Jason Mastrodonato is a reporter for MLB.com. Follow him on Twitter @jmastrodonato. This story was not subject to the approval of Major League Baseball or its clubs.