Tracy's heroics short-lived as Nats fall to Phils
Tracy's heroics short-lived as Nats fall to Phils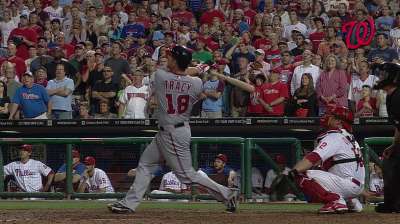 PHILADELPHIA -- Domonic Brown's RBI single in the bottom of the ninth inning gave the Phillies a 5-4 victory over the Nationals at Citizens Bank Park on Monday night. Washington has lost two consecutive games and finds itself a game under .500 with a 34-35 record.
Philadelphia scored the winning run against left-hander Fernando Abad. With runners on second and third and two outs, Abad threw an 2-2 pitch to Brown, who singled to center field, scoring Ben Revere. It was Brown's first career walk-off hit.
"I was just trying to stay short and as quick as I possibly can, especially with a pitcher as tough as Abad," Brown said.
"I guess he had a changeup and left it a little bit up, and that was the ballgame," Nationals manager Davey Johnson said. "We fought back and it was a good ballgame. The bullpen did a good job. I can't fault that. It was a tough loss."
Washington tied the score at 4 in the top of the ninth inning, when Chad Tracy homered to right field against Jonathan Papelbon. It was Tracy's third home run of the season.
"You tie it late and everybody's emotions are running high, everybody is feeling good, and then [the Phillies] come out, put together some good at-bats in the end, and then steal it right back from you," Tracy said.
The ninth inning seemed to be a good time for right-hander Drew Storen to enter the game. But Johnson had other ideas. The skipper felt if Abad was able to retire Revere, Storen would then enter the game. But if Revere reached base, which he did with a single to center, it would be up to Abad to hold the Phillies scoreless.
"When we tied it up late, I couldn't get [Storen] ready in time," Johnson said. "I didn't want him to warm up. With the first guy [Revere] left-handed -- if Abad gets him, I go to Storen. If he doesn't, [Abad] is going to hold the guys on. It's that simple."
The Nationals faced Phillies left-hander John Lannan for the first time since Washington non-tendered Lannan last December.
"We like Johnny," Johnson said before the game. "Johnny pitched some great games for us. I just hope he continues to struggle [at Citizens Bank Park]. I wish him all the best."
During his six years in the big leagues, Lannan was 2-5 with a 6.05 ERA at Citizens Bank Park. However, Lannan didn't struggle against the Nationals at his new home ballpark on this night.
Lannan lasted five innings, allowing two runs on six hits and striking out four batters. Lannan got off to a slow start against his former club in the first inning. The Nationals had runners on first and second with one out when Jayson Werth singled to left field, scoring Anthony Rendon.
The Nationals wouldn't do any further damage off Lannan until fourth inning. Kurt Suzuki scored on a double by Steve Lombardozzi to make it a 3-2 game in favor of the Phillies.
"He pitched all right," Johnson said about Lannan. "He mixed up his changeup and he threw some curveballs and kept the ball down. He was a little rugged in the first inning. That's what he usually is. He pitched OK."
Lannan was Washington's Opening Day starter in 2009 and '10. During most of his years with the Nationals, Lannan often led the team in victories. Before the 2012 season started, Johnson said Lannan was going to be in the rotation. It turned out Lannan was sent to Triple-A Syracuse, while Ross Detwiler became the fifth starter in the rotation.
Lannan indicated after the game that he didn't have extra motivation to face the Nationals.
"I knew I had to do a job no matter who I was facing," Lannan said. "They have some good hitters over there, so I really had to bear down at times. But there was no extra emotion."
Right-hander Dan Haren started for the Nationals, pitching six innings and allowing four runs on seven hits. Haren ended up losing the lead by the second inning, when Ryan Howard hit a monster home run into the second deck in right field to tie the score at 1.
An inning later, the Phillies had the bases loaded with two outs when Delmon Young doubled past the diving Werth in right field, scoring Michael Young and Jimmy Rollins.
In the fifth inning, Philadelphia added an insurance run against Haren as Revere scored on a single by Howard.
"I tried to keep my head in the game," said Haren. "I was better than I had been. I was able to get six innings, I guess it's better than five. I'm still looking for improvement. I wish I could have given the team more."
The Nationals would make it a one-run game against reliever Mike Adams in the top of the eighth inning. Ryan Zimmerman scored on a single by Ian Desmond, but Desmond was left stranded at first when pinch-hitter Adam LaRoche, facing left-hander Antonio Bastardo, grounded out to second to end the inning.
Bill Ladson is a reporter for MLB.com and writes an MLBlog, All Nats All the Time. He also could be found on Twitter @WashingNats. This story was not subject to the approval of Major League Baseball or its clubs.