Brown's RBI single walks off Phils vs. Nats
Brown's RBI single walks off Phils vs. Nats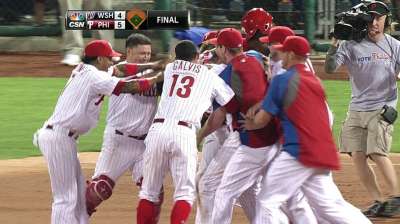 PHILADELPHIA -- Maybe Ryan Howard can fight through the pain in his left knee the rest of the season. Maybe Domonic Brown can continue to make the necessary adjustments at the plate.
If they can do those things, maybe the Phillies can get a consistent 1-2 punch in the middle of their lineup, which Phillies general manager Ruben Amaro Jr. discussed hours before Monday's 5-4 victory over the Nationals at Citizens Bank Park.
Howard went 3-for-3 with a home run, two RBIs and one walk to give the Phillies an early lead, while Brown's single up the middle with two outs in the ninth inning scored Ben Revere from third base to give the Phillies the victory.
"We like it when two guys in your lineup are hot, why not three or four be consistent?" Phillies manager Charlie Manuel said. "Five, six, what's wrong with that?"
Don't get greedy, Charlie. The Phillies have had trouble finding one hot hitter at times this season.
"Greed comes good in baseball," Manuel said.
Amaro spoke before the game about his team, which included contracts on the Phillies' payroll teams might not want in a trade. Howard's five-year, $125 million contract presumably is one of the deals he referenced. Howard's production has dropped considerably since 2009, and he is owed $85 million following this season.
This season has been a struggle for Howard, who has battled constant pain in his left knee.
But Howard has shown some life in June, hitting .346 (18-for-52) with five doubles, one triple, one home run, 10 RBIs, nine walks, 14 strikeouts and a .976 on-base-plus-slugging percentage in 16 games. He hit a game-tying solo home run to right field in the second inning Monday. It was his first home run since May 29, and just his second in 131 plate appearances.
"It felt good," Howard said. "Just been trying to put together some good AB's and let the power come as it comes."
Howard has just eight home runs this season. He is on pace to finish the season with 18 homers and 82 RBIs.
"Just continuing to just grind, grind, grind," he said. "Get into a good position where my knee doesn't hurt and try to do what I can. If it's singles, doubles, hopefully the home runs will come."
The Phillies took a 3-1 lead in the third, when Michael Young hit a one-out triple and Nationals right-hander Dan Haren walked Jimmy Rollins and Howard to load the bases. Brown struck out for the second out, but Delmon Young, who was in a 3-for-20 slump, hit a sinking line drive close to the right-field line. Nationals right fielder Jayson Werth missed on a diving catch as Michael Young and Rollins scored.
Howard's two-out single to right scored Revere from second in the fifth to give the Phillies a 4-2 lead.
Phillies left-hander John Lannan returned to the rotation after recovering from a strained quadriceps tendon in his left knee. He allowed two runs in five innings as he worked on a pitch count against his former team.
The Phillies carried a two-run lead into the eighth, but Mike Adams allowed a run in the eighth and Jonathan Papelbon allowed a two-out, two-strike solo home run to Chad Tracy in the ninth to tie the game.
But Revere hit a leadoff single in the bottom of the ninth. He advanced to third on Rollins' single and scored on Brown's single up the middle.
It was the first career walk-off hit for Brown, who was hitting .143 (4-for-28) with one RBI in eight games before that at-bat after hitting .355 (33-for-93) with five doubles, two triples, 13 home runs, 29 RBIs and a 1.252 OPS in a 24-game stretch.
"I don't think they're really pitching me different," Brown said. "If I'm going to chase pitches like I did in that second at-bat, then they're going to keep coming with it, and I've got to make an adjustment."
Brown struck out in that second plate appearance in the third. He walked in his third, singled in his fourth and singled to win the game in his fifth.
It is just one game, but for one night in a mostly dreadful season, the Phillies could see the possibilities with Howard and Brown swinging hot bats at the same time.
"If he goes, we go," Brown said about Howard. "That's the Big Piece, as you guys call him. He's starting to get in a good groove and he's definitely going to hit."
Todd Zolecki is a reporter for MLB.com. This story was not subject to the approval of Major League Baseball or its clubs.