Teheran turns in strong outing to beat Giants
Teheran turns in strong outing to beat Giants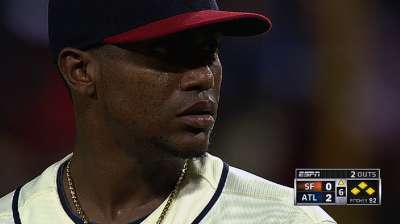 ATLANTA -- Julio Teheran was not nearly as dominant as he had been during his previous home start. But somewhere in the midst of escaping two potentially disastrous jams in front of a national television audience, the young hurler once again showed why the Braves are so excited about his future.
Teheran escaped two bases-loaded threats unscathed and Freddie Freeman highlighted his three-hit night against Tim Lincecum with a first-inning single that proved decisive for the Braves during Sunday night's 3-0 win over the Giants at Turner Field.
"Maturation, that's what it is," Braves manager Fredi Gonzalez said in reference to Teheran. "Here's a guy that 12 starts ago, it might've blown up on him, and here's a guy that can compose himself. He's been through those situations, and he did a good job."
One day after staging a thrilling two-run, ninth-inning rally that prevented them from suffering a fifth consecutive loss, the Braves found themselves on the right end of two crucial plays in left field.
When the Giants used two singles and a walk to load the bases with two outs in the sixth inning, Justin Upton made a great diving catch of Joaquin Arias' sinking line drive in shallow left field. The acrobatic catch saved two runs and potentially the game for Teheran.
"I knew it was going to be close," Upton said. "But I was in a full sprint. So I was hoping I could get there."
Lincecum did not prove to be as fortunate when B.J. Upton scored his younger brother with a one-out line drive in the third inning. Left fielder Andres Torres was unsuccessful in his attempt to reach and secure Upton's liner just before it skipped off the grass and went toward the left-center-field wall.
"You know, I say so many times that there's a fine line between winning and losing," Giants manager Bruce Bochy said. "Arias' ball they make a great play on, a couple of balls we don't handle -- that's the difference in the ballgame."
Teheran has navigated a wave of emotions over the past couple of weeks. This was his first home start since he came within four outs of tossing a no-hitter against the Pirates on June 5. It was also his first outing since allowing the Padres five runs in six innings last week at Petco Park.
"I know that I wasn't at my best last time, and I was trying to get back on track and keep what I've been doing in my last 10 starts," Teheran said.
Teheran scattered seven hits and recorded eight strikeouts in his six scoreless innings against the Giants. He has now allowed three earned runs or fewer in nine of his past 10 starts.
When Teheran retired Brandon Crawford to begin the fourth inning, he had recorded five consecutive strikeouts. After not striking out any of the next 11 batters he faced, he recorded consecutive strikeouts of Brandon Belt and Torres immediately after Buster Posey and Hunter Pence had opened the sixth with back-to-back singles.
"I was trying to control myself in those [bases-loaded] situations," Teheran said. "I was struggling a lot, and that made me get a little bit out of control, but I was taking deep breaths and trying to get back."
Lincecum was nowhere near as successful as he was while tossing seven scoreless innings against the Braves last month in San Francisco. He walked the first batter he faced in each of the first three innings and proved perfect in just one of his six innings.
Andrelton Simmons drew his first walk since June 4 to open the bottom of the first inning and then stole second base before scoring on Freeman's two-out single to center field. Freeman has hit .456 (26-for-57) with runners in scoring position this season and .429 (12-for-28) with runners in scoring position and two outs.
"[Freeman is] swinging it pretty good, and here's a guy going into the game that didn't have very good numbers against Lincecum," Gonzalez said. "He's swinging it pretty good, got us a run earlier in the game. We hit the ball hard all night and only got three runs."
The Braves added an insurance run after Torres allowed Ramiro Pena's sixth-inning single to slip under his glove. Pena raced to third base on the play and scored when Jordan Schafer showed good bat control while successfully executing a suicide-squeeze bunt on a low pitch.
"He's the right guy," Gonzalez said. "He can do it. You feel comfortable that you can squeeze there and he'll at least foul it off. Good for us to get an extra run."
Mark Bowman is a reporter for MLB.com. This story was not subject to the approval of Major League Baseball or its clubs.