Giants can't back Lincecum vs. Braves
Giants can't back Lincecum vs. Braves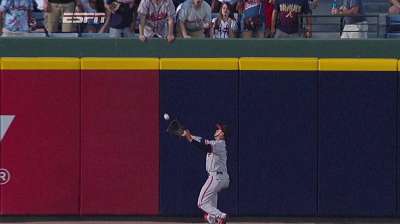 ATLANTA -- The Giants had no time to brood. They were scheduled to arrive in San Francisco at about 3 a.m. PT after fleeing the site of their 3-0 loss Sunday to the Atlanta Braves. Monday's series opener at AT&T Park against the suddenly hot San Diego Padres would soon follow.
But if the Giants chose to dissect and analyze the finale of their three-city, nine-game trip, they'd know how close they came to generating a more satisfying outcome for themselves and Tim Lincecum, who tumbled to his seventh defeat in his last nine decisions.
They probably realized this anyway, given the vivid nature of the game's most compelling moments.
Braves starter Julio Teheran (5-3) looked dazzling at times and vulnerable at others while working six innings. When Teheran faltered -- he allowed seven hits and stranded eight runners -- he received run-saving defense from left fielder Justin Upton and shortstop Andrelton Simmons.
Lincecum (4-7) lapsed when he dangled an 0-2 changeup with two outs in the first inning to Freddie Freeman, who lined an RBI single. It was his first career hit off Lincecum in 12 at-bats.
"I knew out of my hand that it wasn't right," said Lincecum, who was caught on a television replay screaming in dismay as Freeman connected.
But misplays by left fielder Andres Torres accounted for Atlanta's final two runs. Torres lost track of B.J. Upton's third-inning line drive in the Turner Field lights, resulting in an RBI double.
"I've lost a few balls like that," said Torres, clearly upset with himself.
Three innings later, Torres committed a two-base error on Ramiro Pena's single, allowing the ball to slither past the outside of his right foot.
"I have no clue, to be honest. But it was terrible," Torres said when asked to explain the misplay.
Pinch-hitter Jordan Schafer's bunt scored Pena. After that, the Giants didn't have a single baserunner. Matters were different earlier.
Upton robbed the Giants of a fruitful fourth inning. After Buster Posey and Brandon Belt singled and Torres walked to load the bases with two outs, Joaquin Arias lifted a bloop to shallow left field that appeared destined to fall safely. But Upton dove to snare the ball millimeters above the grass and held onto his prize as he tumbled, denying the Giants at least two runs.
"I thought it was going to drop, but when I saw everybody clapping, I was like, 'Oh, he made it.' It was pretty exciting," Teheran said.
The Giants endured similar heartbreak in the sixth, which began with singles by Posey and Hunter Pence. Teheran recovered to strike out Belt and Torres and received substantial help from Simmons, who dove to smother Arias' grounder up the middle. It would have delivered Posey with San Francisco's first run. Instead, the bases were loaded, and the threat ebbed as Nick Noonan flied out to left field.
If the Giants could salvage anything from this one, it was Lincecum's ability to record his fifth quality start in 14 outings this year.
"I was proud of how he battled out there," Bochy said. "He didn't let the game get away from us. He ended up throwing a pretty good game. We just didn't do anything with the bats. I think overall he did a really great job of competing and finding a way to get it done."
Said Lincecum, who found his equilibrium after issuing leadoff walks in the first three innings, "Every outing I know I can take some positives from it and not lean on the negatives so much."
That's essentially how the Giants were forced to regard their trip. Their 4-5 mark actually represented a decent effort, considering they faced Arizona, the National League West leader; Pittsburgh, thus far a solid contender; and Atlanta, the NL East pacesetter. Had the Giants not absorbed their first defeat of the season when leading after eight innings Saturday, this would have been an above-.500 trip and thus an unqualified success.
Moreover, though the Giants emerged from their stretch of 12 road games in 14 dates with a 6-8 record, they fell only one game farther behind Arizona in the division standings during this span. Colorado vaulted into second place Sunday, but the third-place Giants trail Arizona by just 1 1/2 games. Fourth-place San Diego, the Giants' next opponent, is only two games out of first place.
"It's a division that's beating up on [each other]," Bochy said. "At the same time, we're lucky that nobody's taken off and pulled away with it."
Chris Haft is a reporter for MLB.com. This story was not subject to the approval of Major League Baseball or its clubs.