Upton family throws out first pitches for Braves
Upton family throws out first pitches for Braves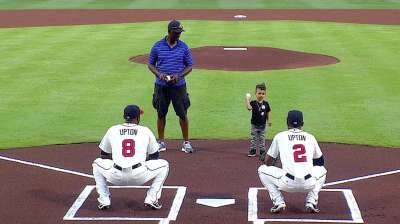 ATLANTA -- Three generations of Uptons participated in a Father's Day tribute before Sunday night's game against San Francisco.
Braves outfielders B.J. and Justin Upton were joined by their father, Manny "Bossman" Upton, and B.J.'s 3-year-old son, Riley, as the four took the field to throw out the ceremonial first pitch. Standing just a few feet away from home plate, Riley threw to B.J., while Manny threw to Justin.
It has been a special year for Manny, who has been able to watch his two sons play on the same team for the first time in their professional careers after B.J. signed a five-year deal in November and Justin was traded to Atlanta two months later. Justin leads the Braves with 15 home runs, and B.J. extended his hot start to the month with his seventh and eighth homers of the year in Saturday's 6-5 comeback win.
Mark Bowman is a reporter for MLB.com. Eric Single is a reporter for MLB.com. This story was not subject to the approval of Major League Baseball or its clubs.