Belt unconcerned by opposing teams' shifts
Belt unconcerned by opposing teams' shifts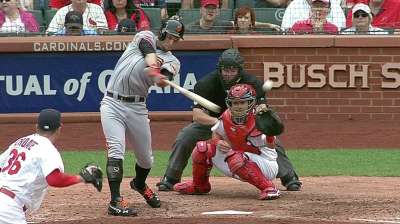 ATLANTA -- Aware of Brandon Belt's tendency to pull ground balls to the right side and stroke them up the middle, opponents have begun shifting their infielders to reflect the left-handed batter's hitting habits.
The positioning has not fazed Belt at all.
"My goal when I go to the plate is to hit a line drive, so if I hit a line drive, it isn't really going to matter," said Belt, who already has equaled his 2012 total of seven home runs. "I think it probably enters my mind when I hit a hard ground ball and it plays right into the shift. But other than that, I don't think about it too much."
Last Wednesday in Pittsburgh, Belt hit a line-drive single to left field that might have been caught if the infielders had been playing in their normal areas. But he insisted that he wasn't trying to beat the shift.
"It just worked out that way," Belt said, pointing out that he frequently drives pitches to the left-center-field gap when he's in a groove.
Belt also said jokingly about the shift, "Maybe I can offset that with a bunt or something."
Actually, that has been done. Hall of Famer Willie McCovey, who repeatedly faced massive infield and outfield shifts, bunted for a double in the second game of a doubleheader on May 3, 1970, against Philadelphia's Woodie Fryman. It turned out to be a Giants classic, since Willie Mays scored from first base on the play.
Chris Haft is a reporter for MLB.com. This story was not subject to the approval of Major League Baseball or its clubs.