Braves eyeing consecutive starts for Gattis
Braves eyeing consecutive starts for Gattis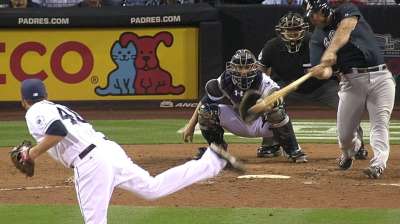 ATLANTA -- The Braves' upcoming doubleheader with the Mets this week will offer Braves manager Fredi Gonzalez the increasingly rare opportunity to arrange back-to-back starts for Evan Gattis.
Gonzalez said before Sunday night's game that Gattis would start at left field and catcher in two straight games somewhere during the Braves' five-game set with the Mets, utilizing Tuesday's doubleheader to give the April and May National League Rookie of the Month consecutive starts for just the second time in June.
"We got to put him in there," Gonzalez said. "Looking forward, I think we'll get him in there a couple days in a row here this next series coming up with New York with the doubleheader on Tuesday."
If Gattis starts Monday night's series opener against the Mets, Gonzalez said he would play in the first game of Tuesday's doubleheader. Otherwise, he'll start Tuesday night and again Wednesday.
When Brian McCann returned from offseason shoulder surgery to make his season debut May 6, Gattis started all three games of the Cincinnati series in left field and has strung together consecutive starts on just three occasions since. Meanwhile, McCann has wasted little time recapturing his offensive productivity after missing the first month of the season, hitting .255 with seven home runs and 17 RBIs since his return.
After Gattis hit .261 with seven home runs and 18 RBIs while starting 24 of the first 30 games of the season, his production as a recurrent member of the starting lineup dropped off as his opportunities to start back-to-back games dwindled. But the looming threat he provides as a pinch-hitter, especially with a second catcher on the bench in veteran Gerald Laird, has kept him in the spotlight.
"The other way around, when he's in [the lineup], you have to deal with McCann [off the bench]," Gonzalez said. "Having a third catcher and then people know that at any time, they got a guy that potentially can do some damage off the bench."
The Braves also have one more Interleague series before the All-Star break, a two-game set in Kansas City on June 25-26 that should give Gattis another pair of starts: one as a designated hitter and one behind the plate or in left. Until then, the unorthodox five-game series this week allows the Braves to get another glimpse of their rookie slugger as an everyday starter.
"You got to contend with him," Gonzalez said. "Whether it's a one-run game, the second hitter of the game or you put him out there with the bases loaded or whatever situation, he's dangerous."
Mark Bowman is a reporter for MLB.com. Eric Single is a reporter for MLB.com. This story was not subject to the approval of Major League Baseball or its clubs.