A's slug away to back Colon's sixth straight win
A's slug away to back Colon's sixth straight win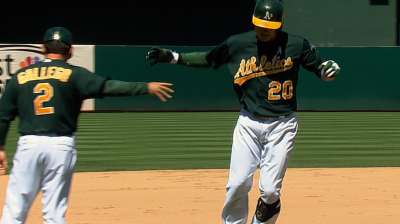 OAKLAND -- It looked like Bartolo Colon's outing on his 16th Father's Day on a Major League roster would be a short one.
But the A's pitcher found his command and provided a stifling performance in a 10-2 victory, but first with a key play from his defense.
The Mariners had a chance to extend a 2-0 lead in the second inning on Kyle Seager's line drive to right field, but Josh Reddick made a shoestring catch for the out. The threat of his arm dissuaded Seattle from the temptation of sending Mike Zunino from third base. A play later, Kendry Morales flied out, and Colon -- along with his defense -- had prevented a two-run inning from turning into a larger rally.
The Mariners would not threaten again the rest of the afternoon.
"Today was one of those days that could've gotten away from [Colon]," third baseman Josh Donaldson said. "The defense picked him up a bit today, but Bartolo will never say die and will just throw strikes."
After allowing a weak Mariners lineup to score two runs on five hits in the second inning, Colon was nearly unhittable the rest of his outing, picking up his sixth consecutive win.
After laboring through that 35-pitch second inning, Colon settled down and returned to his typical 2013 form. He retired 12 consecutive batters and 16 of 17 to save his pitch count by retiring the Mariners with a total of just 52 pitches the next five innings.
"How can he not be a part of the conversation?" replied A's manager Bob Melvin when asked about the 40-year-old's All-Star candidacy. "Yeah, he's definitely a guy that I would think would be a front-runner."
With the win, Colon improved to 9-2 with a 2.89 ERA on the season and did so rather efficiently. He threw 97 pitches in seven innings and did not walk a batter while allowing just the two earned runs.
"He got stronger throughout the game," Zunino said. "He was working the bottom of the zone, expanding, trying to do what he can do. He threw a lot of strikes today and got a lot of outs and a lot of ground-ball outs."
Runs have been at a premium in Oakland lately -- the A's entered the game with a mere five in the past 36 innings -- and Sunday presented another challenge for the Oakland lineup. Mariners starter Hisashi Iwakuma entered the game having yielded only three earned runs in 13 innings pitched against the A's this season.
The A's figured out Iwakuma -- a popular Cy Young candidate of late -- the second time through the lineup Sunday. Donaldson snapped an 0-for-16 streak with a leadoff double in the fourth, and was driven home by Seth Smith's two-bagger. Reddick capped off the two-run inning with an RBI single.
"It's a good feeling with a guy that's thrown the ball better than King Felix [Hernandez] lately," said Reddick, who garnered his third career four-hit game and first since May 2012. "We knew it wouldn't be easy."
Oakland added two more runs to the scoreboard in the fifth and, in all, tagged Iwakuma for four runs on eight hits in five innings. It marked just the second time this season that the second-year starter did not pitch into the sixth inning, and it snapped a streak of four consecutive quality starts from the right-hander, who tied his season high with three walks.
The A's exploded with four runs in the seventh and two in the eighth to blow the game open. Donaldson crushed his 10th home run of the season -- and second extra-base hit with a two-strike count of the day -- and Smith followed with one of his own for back-to-back homers. Brandon Moss tagged his 12th home run of the season in the eighth, and Reddick capped off his four-hit game with a long ball as well. It marked the first time this season the A's slugged more than two home runs at O.co Coliseum.
"You don't want to stop against a team like that that's been swinging the bat well all series," Reddick said."
The Mariners' two-run, second-inning rally started with a leadoff single from Michael Morse, and was followed by a bizarre play. Jason Bay hit a comebacker to the mound, and Colon thought he had snagged it in his glove. It was only after Bay reached first base safely that Colon realized the ball was standing at his feet the entire time. Instead of recording a double play, Colon was mired by a two-on, no-out jam.
Endy Chavez singled home both runs later in the inning before Reddick halted Seattle's threat with what Melvin said might've been the play of the day.
Oakland avoided a sweep, but dropped a series for the first time in its past nine. The A's take a three-game lead to Texas -- losers of six straight games -- for a four-game series. It's the first time the A's have owned a three-game lead in the American League West since the end of the 2006 season, and the first time before the All-Star break since April 2003. Oakland's advantage in the standings is due in large part to its performance against divisional foes this season, as the A's are 21-10 against the West and 21-19 against everyone else.
Andrew Owens is an associate reporter for MLB.com. Follow him on Twitter @OwensAndrew. This story was not subject to the approval of Major League Baseball or its clubs.