Phillies unable to back sharp Hamels in finale
Phillies unable to back sharp Hamels in finale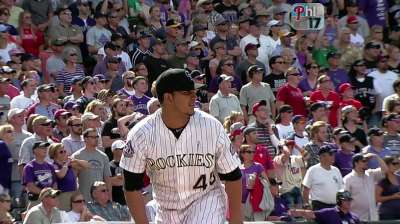 DENVER -- After two explosive games with a total of 30 runs scored between the Phillies and Rockies, the teams staged an old-school pitchers' duel on Sunday, with one run through six innings. Both Opening Day starters were in ace form, but a late burst of scoring allowed the Rockies to take the rubber match, 5-2.
The Phillies couldn't ask for much more from Cole Hamels, after battling Jhoulys Chacin. He allowed three baserunners through the first six innings. He gave up a leadoff single to Dexter Fowler, then didn't allow a baserunner to second until the seventh inning.
"It was a pretty fun game to watch from a pitching standpoint," Hamels said. "It was a pitchers' battle. Ultimately he came out on top, and here I am again."
The loss was Hamels' 10th in 15 starts this season. It was also his 11th quality start, and his sixth consecutive quality start against the Rockies.
"He's one of the toughest lefties in the game," Rockies right fielder Michael Cuddyer said. "I know his record and ERA is what it is, but he's still got great stuff and he had great stuff today. Fortunately, we were able to scratch and claw, and Jhoulys was unbelievable out there."
The lone run on either side through 6 1/2 innings came on Hamels' first pitch of the second inning. Rockies catcher Wilin Rosario turned on a 91-mph fastball and delivered it five rows into the left-field bleachers.
Hamels allowed a walk later in the second, then retired the next 13 batters he faced.
While the Rockies had little luck against Hamels, the Phillies had even less against Chacin. Domonic Brown stroked a one-out single to right in the second, but that was the only Phillies player to reach base through the first six innings as Chacin retired 14 in a row, averaging fewer than 10 pitches an inning through six.
"What he was doing wasn't hard to figure out," manager Charlie Manuel said. "He was throwing first-pitch strikes. He was getting ahead of us and then we were chasing balls out of the strike zone. That's the whole object of pitching. That's how you pitch when you don't have 95 or 94."
Philadelphia made some headway in the seventh, with Kevin Frandsen beating out a dribbler to third that Nolan Arenado couldn't barehand cleanly. After Jimmy Rollins grounded into a 3-6-3 double play, Ryan Howard drove a single up the middle for the second hit of the inning. Brown grounded out on Chacin's 10th pitch of the inning to end the seventh.
"He keeps the ball down and he mixes it up just enough," Hamels said of Chacin. "You feel like you're on his fastball, but it just moves just enough. His slider is really good. If you're able to have two top-notch pitches, especially in this ballpark, that are going down and none of that going up in the zone, I think you're going to get away. You see in batting practice how far the balls fly, or just float, so guys want to jack them out. If you're able to pitch against that and get guys a little anxious, you'll have a pretty good ERA."
The Rockies put their own rally together in the bottom of the seventh inning, putting men on second and third as Carlos Gonzalez beat out a leadoff single to second and Cuddyer doubled to shallow right one pitch after Hamels and catcher Humberto Quintero thought they'd got a perfect strike three. They also thought Rosario swung at strike three, but home-plate umpire Marvin Hudson ruled it a check swing.
"The Cuddyer pitch was right down the middle," Quintero said. "If he called that a strike we'd be out of the inning with two ground balls."
Hamels retired Rosario and Jordan Pacheco on groundouts, though Gonzalez scored on Pacheco's grounder to third. Arenado drove a double to center to plate Cuddyer.
The calls in Cuddyer and Rosario's favor frustrated Hamels, and Manuel made a trip to the mound to calm his pitcher.
"He gets upset because he's trying hard and he wants things to happen his way," Manuel said. "What's wrong with that? He don't go overboard with it. If he's standing out there casually cool and everything, I don't like that neither. At least he's showing some emotions that he wants to get them."
Philadelphia finally got on the scoreboard with two out in the eighth inning as Rollins drove a double to the right-field wall to score Ben Revere, who extended his hitting streak to seven games with a one-out single. Howard plated Rollins with a single to right-center, and closer Rex Brothers came in to strikeout Brown for the final out.
The loss gave the Phillies a 3-7 road trip, dropping them four games below .500 after leaving home 30-30.
"I don't think we have any excuses," Hamels said of the team's disappointing dip. "We have to be accountable for what we're doing. I'm not happy about it, because there's a reason I want to be here, and that's to win. I know I've had a few bad games earlier on, but for the most part I'm going out there and I'm trying to win every game."
Manuel took the bad breaks in stride, confident his club would climb out of the funk it has had on the road.
"When you're going bad, that's what happens," Manuel said. "You can't put a percentage on luck in the game, and luck counts like heck. Ain't to take nothing away from them, because they earned everything they got, too. But that's the way baseball is, and that's hard to live with sometimes."
Owen Perkins is a contributor to MLB.com. This story was not subject to the approval of Major League Baseball or its clubs.