Holland gets minimal backing in finale
Holland gets minimal backing in finale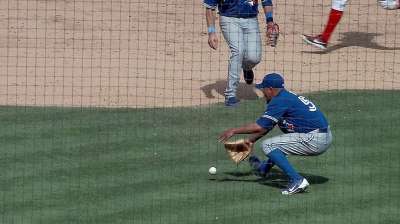 ARLINGTON -- The Rangers entered their 11-game homestand with the best home record in the American League, but the comforts of Rangers Ballpark have not cured their offensive woes.
The Rangers dropped their sixth straight game in a 7-2 loss on Father's Day to the Blue Jays, who completed the four-game sweep. It was the first time the Rangers had been swept this season. They are 1-6 on the homestand, prompting a team meeting from Rangers manager Ron Washington after the game.
"I spoke to them, and the message is nobody's business in this room, and I don't mean to be disrespectful," Washington said. "I just thought they needed to hear from the manager, that was it."
Toronto's Chien-Ming Wang received his first win since June 12, 2012. He pitched seven scoreless innings, allowing seven hits. He struck out five and walked two on 99 pitches.
The Rangers trailed in 39 of 54 innings during their six-game losing streak. They went 2-for-24 with runners in scoring position in the series, including a 1-for-8 performance Sunday. They also left 11 on base.
"It's good to have a meeting," David Murphy said. "Things haven't gone well lately, but bottom line: this is a great group of guys. I love the energy that we came with today, but it just didn't happen for us today. I have a great feeling things are going to turn around real soon, and this will be quickly forgotten."
The Rangers' misfortune Sunday started in the second, when Chris McGuiness struck out to end the inning with two on. The Rangers had runners on the corners in the fourth with one out, but Nelson Cruz lined out to third and Murphy flied out to left field. The Rangers again had runners on the corners in the seventh, this time with two outs, but Elvis Andrus grounded out to second base to end the inning.
"We're playing hard, but we're not getting it done," A.J. Pierzynski said. "There's not much else to it. We're just not winning games. There's no other way to put it. Guys are trying; guys are playing hard; guys are going about it the right way; and it's just not working out."
Derek Holland took the loss, dropping to 5-4 overall and 2-2 in his last five starts. He allowed four runs on 10 hits in six innings. Holland struck out six batters and threw 104 pitches, but he allowed two home runs.
"I did everything I could to possibly stop it, but sometimes you go as far as you can, and it's just not going to happen," Holland said. "You got to give the other team credit, too. Yeah we're battling, but they found ways to get the ball to drop in. When we were hitting it, they found ways to make the plays."
J.P. Arencibia had a two-run home run off Holland in the second to give the Blue Jays a 2-0 lead. That marked Holland's first start this season in which he allowed a run in the first two innings. Colby Rasmus hit a solo shot to lead off the fourth and put the Blue Jays up, 3-0. Holland entered Sunday's start allowing just four home runs in 84 innings pitched.
Holland left the game after allowing a leadoff double to Melky Cabrera to start the seventh. The run was scored on Jose Bautista's single, starting a four-run inning by the Blue Jays. Kyle McClellan entered for Holland and allowed a three-run homer to Adam Lind in the inning.
The Rangers mustered two runs in the ninth to cut the deficit to 7-2 on a bases-loaded, two-out infield single by Andrus, ending his 0-for-12 skid. Ian Kinsler drew a walk on the next at-bat, but Adrian Beltre flied out to left with the bases loaded to end the game.
"We know how good we are, and we know it's not going to be like this forever," Andrus said. "We know we're going to turn this thing around. You always want to get ahead first and get in a rhythm, but it hasn't happened lately."
The Rangers have scored two or fewer runs in six straight games, setting a club record at Rangers Ballpark. It is the longest such stretch in the American League this season, and from a club that led the American League West before the homestand.
Master Tesfatsion is an associate reporter for MLB.com. This story was not subject to the approval of Major League Baseball or its clubs.