Blue Jays secure four-game sweep of Rangers
Blue Jays secure four-game sweep of Rangers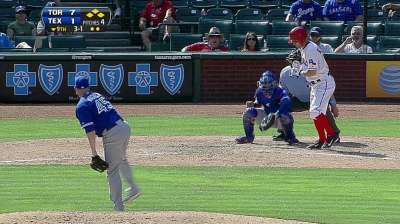 ARLINGTON -- The Blue Jays are riding high after a four-game sweep of the Rangers, and an improved performance by their pitching staff is one of the main reasons why.
Toronto has struggled to get any type of consistent production out of its starting pitchers this year, but for at least one road trip that changed.
Right-hander Chien-Ming Wang on Sunday afternoon became the latest contributor as he tossed seven scoreless innings to extend the Blue Jays' winning streak to five games with a 7-2 victory over the Rangers.
"He has given us a big boost, and he's pitching great," Blue Jays manager John Gibbons said. "This is his opportunity, and he's taking advantage of it. ... He's strong, he's very confident and he's had a lot of success in the big leagues. I tip my hat to the guy."
The Blue Jays' bullpen has been one of the best in baseball all season, but the starters have finally begun to match its production. In the four games against the Rangers, Toronto's starting rotation combined to pitch 26 2/3 innings while allowing just two runs.
The improved numbers can be traced back even a little bit further. In the past 12 games, the entire pitching staff has posted a 2.29 ERA, which is the primary reason Toronto has gone 9-3 over that span.
The starters entered this year with the expectation of being one of the top groups in the American League. So while it should come as no surprise the numbers are improving, the timing does come as somewhat of a shock.
Toronto is without Brandon Morrow and J.A. Happ, while Josh Johnson has been pushed back a couple of times in the past several days because of a blister. That has not been much of an issue, though, because right-handers Wang and Esmil Rogers have stepped up to fill the void.
"The quality of pitching," Blue Jays catcher J.P. Arencibia said when asked for the biggest positive of the winning streak. "In this game, if you don't have starting pitching, it's going to be tough to win. We've had a lot of quality starts with keeping the game close at least."
Wang was stuck at the Triple-A level in the Yankees' system until the Blue Jays came calling in need for another arm. He was granted his release to sign a new deal and has been everything the Blue Jays could have hoped for during the ensuing two starts.
On Sunday, he did not allow a run while surrendering seven hits and two walks with five strikeouts. He recorded 13 of his 21 outs on the ground and threw 60 of his 99 pitches for strikes, and he has provided the bullpen with a lot of rest while combining to throw 14 1/3 innings over his two outings.
Wang has always been known as a sinker-ball pitcher, but the effectiveness of his splitter and changeup have been just as important to his initial success.
"He's come in and done a great job mixing pitches," Arencibia said. "Our first game, I didn't really have a great feel for him because that's what I thought, too: 90 percent heaters. After that inning [in Chicago] where he gave up a few runs, I started really mixing up the pitches, and then he shut them down the next couple of outings and continued it today."
Wang enjoyed a lot of run support during his season debut against the White Sox, and his outing against Texas was no different. Colby Rasmus, Adam Lind and Arencibia all homered, while Jose Bautista added an RBI single. The series in Texas was an impressive one for Arencibia and Lind, who both had two homers, while Rasmus has now gone deep in three consecutive games.
That has continued a recent trend for a batting order that has begun to surge just like its pitching staff. Toronto has at least 10 hits in five of its past eight games and has scored at least six runs in five of its past six. On Sunday, left-hander Derek Holland was the first victim as he was charged with four of the runs on 10 hits over six innings of work.
Overall, the Blue Jays outscored the Rangers during the four-game series by 24-4. Veteran Mark DeRosa said a lot of the recent success could be tied to the fact that everyone had solidified a role and realized what is expected on a daily basis.
"I think guys are just starting to know their place," DeRosa said. "Gibby's able to run out a consistent lineup. If we're facing a righty, you know who's going to be in there; if we're facing a lefty, same thing. We're really just playing good baseball together and gelling at the right time."
The club now heads back to Toronto for the start of a series against the Rockies on Monday night. The Blue Jays completed their trip through Chicago and Texas with a 5-1 (.833) record, which is tied for the fifth-best road series in club history (minimum six games).
It was also the first time the Blue Jays had won five games in a row since July of 2011. If the club wants to keep gaining ground in the American League East, there will have to be a few more of those to come.
Gregor Chisholm is a reporter for MLB.com. Read his blog, North of the Border, and follow him on Twitter @gregorMLB. This story was not subject to the approval of Major League Baseball or its clubs.