Uribe a late scratch due to back tightness
Uribe a late scratch due to back tightness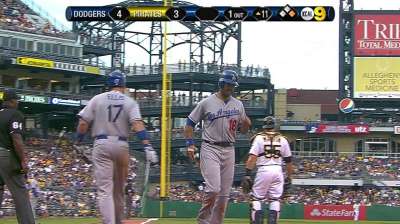 PITTSBURGH -- Juan Uribe was a late scratch from the Dodgers' starting lineup in Sunday's 6-3 loss to the Pirates.
Uribe was slated to play third and bat sixth against Gerrit Cole.
Without Uribe, Skip Schumaker moved to second, Nick Punto went to short, Luis Cruz slid to third and Alex Castellanos was inserted into left field, batting eighth. Catcher Tim Federowicz and Cruz each moved up a spot in the order to sixth and seventh, respectively.
"We thought he was going to be able to go. He swung the bat OK. He had trouble bending over, which is not exactly great for third," Dodgers manager Don Mattingly said. "So, we had to scratch him, but I'm hoping with the day off tomorrow he should hopefully be ready to roll [Tuesday against the Yankees]."
Uribe drove in the game-winning run Saturday with a single in the 11th inning.
Steven Petrella is an associate reporter for MLB.com. This story was not subject to the approval of Major League Baseball or its clubs.