White Sox fall just short as skid continues in Houston
White Sox fall just short as skid continues in Houston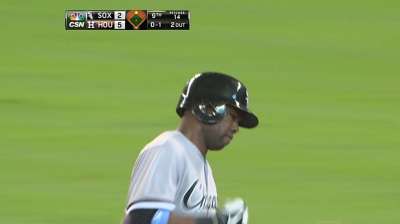 HOUSTON -- Jake Peavy stood talking to rotation-mate John Danks in the corner of the visitors' clubhouse at Minute Maid Park following the Astros' 5-4 victory over the White Sox on Sunday when he spotted a group of reporters.
The veteran right-hander made one request in regard to coverage of his White Sox squad that has lost four straight, 12 of 13 on the road and dipped to 10 games under .500 for the first time since May 7, 2011.
He wanted to see a headline that reads, "You can't make this stuff up."
Stuff was actually substituted for a little harsher word used by Peavy, but the general gist of the statement remains intact.
In Friday's contest, Chris Sale struck out 14 and didn't allow an earned run during his complete-game effort, but the White Sox lost. On Saturday, Jordan Danks got picked off second to end the game as the potential tying run. And on Sunday, Jason Castro hit an opposite-field homer off of Matt Thornton covering 317 feet down the left-field line to give the Astros (26-44) two insurance runs in the seventh, but Dayan Viciedo's 410-foot drive to center leading off the second got tracked down by Brandon Barnes.
This sort of scenario pretty much has played out all season for the White Sox (28-38). They aren't an awful team getting pummeled on a nightly basis, but their 4-14 record since reaching .500 on May 26 and their 9 1/2-game deficit behind the Tigers indicates they aren't very good either.
"When you lose by one run every game, and win by one run every game, you go back to that one inning where we didn't get things done," said White Sox first baseman Adam Dunn, who finished 1-for-4 with three strikeouts. "Pretty much every one of our losses you can't point a finger on it, whether it's the first, fourth or sixth inning."
"It's not like we're being blown out," said White Sox starting pitcher Hector Santiago (2-5), who took the loss in the third of this four-game wraparound series. "It's one-run games. You get one hit and it's a different ballgame."
That difference-maker for the White Sox could have come in the seventh Sunday against Jose Cisnero, who replaced starter Dallas Keuchel (4-3) after Viciedo's triple and Jeff Keppinger's single cut the lead to one. Gordon Beckham singled to right and pinch-hitter Conor Gillaspie walked to load the bases with one out, but Alejandro De Aza struck out swinging and Alexei Ramirez's check swing rolled back to Cisnero, who ran the ball to first for the final out.
De Aza hit a two-run homer off of closer Jose Veras (14th save) with two outs in the ninth inning. But all that blast to right did was insure another one-run loss to the Astros when Ramirez grounded out to end the contest, leaving the failure two innings earlier to stand out more prominently.
"You're looking at that seventh inning, and you want something to happen once you get the bases loaded. You put them in a vulnerable spot," White Sox manager Robin Ventura said. "You think you're at least going to get another one out of that and you don't, which is frustrating."
"Cisnero did a tremendous job," said Houston manager Bo Porter of the seventh. "That inning was in his pocket, his zone. I thought he actually made better pitches once the bases got loaded."
Santiago had one rough inning, but with the White Sox offense struggling as it is, it was one too many. In the second, Chris Carter singled, then Santiago walked Carlos Pena and Trevor Crowe to load the bases with one out. Matt Dominguez ripped the next pitch past a diving Keppinger at third to score three with a double.
"Like I said earlier in the year, it's always one inning," said Santiago, who struck out eight and walked four over 5 1/3 innings, throwing 112 pitches. "First, second inning I get in trouble and then I settled in, but I have to get to the point where I get through the first two innings. Get through those and it seems like we're good from there."
Fortunes for the White Sox already had gone from bad to worse and then dropped a little further during this highly disappointing season, but what does losing three straight to the Astros constitute? Maybe that question is not a fair one to the Astros, who have a 16-14 record over the last 30 games, whereas the White Sox stand at 13-17 during that stretch.
Injuries have hurt the White Sox, and as Peavy pointed out, there have been some breaks against them that almost develop a "what possibly can happen next?" sort of demeanor. But with a defense ranked 13th in the American League and an offense sitting 13th or below in six separate categories, it's tough to view the White Sox as a challenger for .500, let alone for chasing down the Tigers in the AL Central.
Posting a 0-6 combined record against Houston and the Cubs during this 4-14 run doesn't help the argument.
"For once, I'm speechless," Dunn said. "I don't know why our offense is sputtering. We got the talent and everything in place. We're not producing."
"If you want to go down the road of feeling sorry for yourself and thinking bad things are going to happen, it's probably going to happen," Ventura said. "I'm not going there. You just have to pick yourself up and stay positive and get after it."
Scott Merkin is a reporter for MLB.com. Read his blog, Merk's Works, and follow him on Twitter @scottmerkin. This story was not subject to the approval of Major League Baseball or its clubs.