Phillies' rotation to get Lannan back Monday
Phillies' rotation to get Lannan back Monday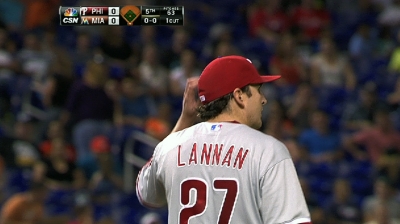 DENVER -- The Phillies take a step toward full strength on Monday when John Lannan is expected to be activated and return to the starting rotation. Lannan will face his old team, the Nationals, with whom he went 42-53 with a 4.05 ERA over parts of six seasons.
Lannan went on the disabled list April 18 with a strained quadriceps tendon in his left knee. Lannan was 0-1 with a 6.14 ERA after three starts before the injury. Lannan made two rehab starts, throwing four innings and allowing one earned run for Class A Advanced Clearwater and seven innings of two-run ball with Double-A Redding. He's posted a 2.45 ERA over his two rehab starts, striking out six and walking two in 11 innings.
"They say he's been doing good," manager Charlie Manuel said of Lannan's work in Triple-A Lehigh Valley. "He's responding real well. He's throwing the ball good."
Lannan and Roy Halladay (right shoulder surgery) have both been missing from the starting rotation, along with Opening Day starters Chase Utley (oblique strain) and Eric Katz (left knee), as well as Carlos Ruiz (right hamstring strain), who played 16 games behind the dish after Katz's injury.
"We need to get all our guys back," Manuel said. "We need to get them healthy. Just like the Rockies. I see [Dexter] Fowler's in there today. I'm sure they're looking forward to getting [Troy] Tulowitzki back, too. It hurts you. People don't realize it. Take one man out of your lineup and it hurts. Two or three crushes you, it really crushes you."
Owen Perkins is a contributor to MLB.com. This story was not subject to the approval of Major League Baseball or its clubs.