Multiple closers deliver positive results early
Multiple closers deliver positive results early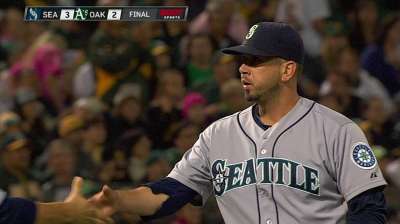 OAKLAND -- Eric Wedge's closer-by-committee experiment has aided the Mariners to two straight wins, but it hasn't been flawless.
The Mariners' manager used three pitchers in the ninth inning the past two days. Although Charlie Furbush pitched a perfect eighth inning Saturday, he couldn't replicate that success in the ninth, allowing a leadoff hit to Coco Crisp before being replaced for Yoervis Medina.
Medina followed by throwing a wild pitch and walking the first batter he faced before retiring the next three batters, including a key strikeout of Brandon Moss for the second out of the inning.
"It's a totally different animal in the ninth inning," said Wedge, who turned to Oliver Perez on Friday night to close out the game for the first save of his career.
Wedge added that he was impressed with Medina's ability to pitch out of Saturday's jam and his ability to be effective against right- and left-handed batters.
Seattle's platoon situation at closer was prompted by the struggles of Tom Wilhelmsen, whose four blown saves since May 20 earned him a demotion from the role.
"It's more of a mental break," Wedge said. "Physically, it gets you away from the grind too, so it's kind of a double whammy on the positive side, as far as I'm concerned. He has the peace of mind knowing that there's not the anxiety of going into the ninth inning with a one-run lead, so he's not carrying that around with him. That's the biggest part of it.
"And he'll be all right. He'll be back out there in our closer's role and he'll be very successful in it."
Jeff Kirshman is an associate reporter for MLB.com. This story was not subject to the approval of Major League Baseball or its clubs.