Ventura confident in Flowers' all-around abilities
Ventura confident in Flowers' all-around abilities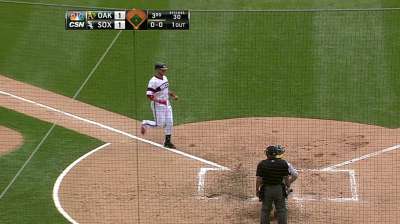 HOUSTON -- The spotlight has fallen on Tyler Flowers since the start of 2013, when incumbent backstop A.J. Pierzynski departed for Texas via free agency. But the barbs thrown in Flowers' direction presently are centered on his on-field play as opposed to who he replaced.
Manager Robin Ventura cannot be counted among those detractors.
"Catching-wise, he's doing a great job calling a game. For me, the hitting has become better," said Ventura. "He's going to run into a guy where he does strike out. But the quality of at-bats has gotten better for me. And that's something we look at too.
"It's hard in this situation when we're losing games that you pinpoint one at-bat. You look at the quality of the at-bats, and it's getting better."
Flowers had 10 hits in his past 28 at-bats entering Sunday, with two homers and three RBIs. Through the offensive and defensive struggles, though, Flowers maintained the same sort of even-keel demeanor and high level of confidence.
"You can't point a finger, just play the game," Ventura said. "Make sure you take care of your own business, pick guys up and be a good teammate. As soon as you start looking for reasons, you can't make it back from that.
"Guys who go out there have to feel confident what he's calling. You see when guys don't gel, you can see how uncomfortable it gets and it becomes more of a grind. When they're in sync, and a pitcher can just throw, it becomes an easier game."
Scott Merkin is a reporter for MLB.com. Read his blog, Merk's Works, and follow him on Twitter @scottmerkin. This story was not subject to the approval of Major League Baseball or its clubs.