Lyons struggles as Cardinals drop rare series
Lyons struggles as Cardinals drop rare series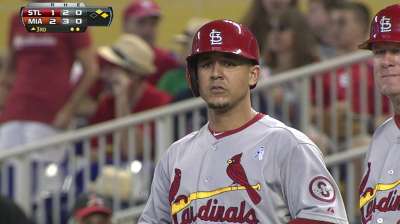 MIAMI -- Tyler Lyons could not slow the Marlins' offense on Sunday, and the Cardinals dropped their first series since late April.
The rookie surrendered six runs as Miami beat St. Louis, 7-2, before 18,468 fans at Marlins Park. The Cardinals dropped their first series since losing two of three to the Pirates from April 26-28.
"To get a win against such a great team and a great lineup and to play as well as we did, that's a great day," Marlins manager Mike Redmond said. "It was a testament to those guys out there who've battled and endured."
Lyons struggled early, giving up three hits that led to a pair of first-inning runs. Juan Pierre hit a leadoff single and Giancarlo Stanton doubled before Justin Ruggiano drove both runners home with a single to center.
"[Lyons] was inconsistent today," Cardinals manager Mike Matheny said. "When he was making his pitches, he was down in the zone and had his breaking ball working and got some good outs. A couple of mistakes really cost him."
The Cardinals answered in the third, scoring their first run against Marlins starter Ricky Nolasco when Miami native Jon Jay delivered an RBI single that drove in Daniel Descalso.
"He did a good job keeping us off balance," Jay said. "He threw all his pitches whenever he wanted. It was one of those days where we couldn't put anything together."
That would be all the damage the Cards would muster against Nolasco, who allowed just one run on three hits over seven innings.
"We've seen quite a bit of him, and every time we've seen him this is what we knew was going to be there," Matheny said. "He made pitches and he's always been tough."
While Nolasco limited the Cardinals' offense, Lyons put himself in a few jams. The left-hander retired the first two batters in the fourth before giving up a single to Placido Polanco and walking Jeff Mathis and Nolasco to load the bases. Pierre followed with a two-run single to give the Marlins a 4-1 lead.
"Giving up six runs is the worst thing about today, but walking Nolasco is not something that's going to help me be successful," Lyons said.
The Marlins put together another two-out rally against Lyons in the fifth, scoring a pair of runs on a Polanco double to center. Lyons finished the afternoon allowing six runs on eight hits over 5 1/3 innings.
"[I] definitely made some mistakes in the first inning, leaving pitches out over the plate," Lyons said. "I got in a groove a little bit during the middle innings, but I made some mistakes with guys on base. And you can't walk the pitcher."
Miami added another run in the seventh when Adeiny Hechavarria singled off reliever Seth Maness to drive home Derek Dietrich.
The Marlins impressed Matheny this weekend, scoring 19 runs over the three-game series against the Cards.
"The team we saw was hitting the ball and making good pitches," Matheny said. "They've got a good pitching staff and the kind of offense that will make you pay if you make a mistake. They've got some talent over there, and they're going about things the right way right now."
The Cardinals threatened against Chad Qualls in the ninth. Matt Adams singled home Allen Craig to cut the deficit to five, and St. Louis loaded the bases with two outs in the inning.
"These guys have always shown that," Matheny said of the Cardinals' ninth-inning threat. "It's just kind of who they are. They don't give up and keep coming. That will pay off in the long run, but it was quite the big gap to make up -- especially against their setup man and closer."
Pinch-hitter Matt Holliday came to bat with the bases full against Marlins closer Steve Cishek, but the sidearmer struck out the Cardinals' slugger looking to end the game and pick up his ninth save of the season.
"We didn't stop fighting," Jay said. "We went down to the end and loaded the bases. We had a chance to keep things going, but came up short."
David Villavicencio is a contributor to MLB.com. This story was not subject to the approval of Major League Baseball or its clubs.