Marlins thump Cards behind dealing Nolasco
Marlins thump Cards behind dealing Nolasco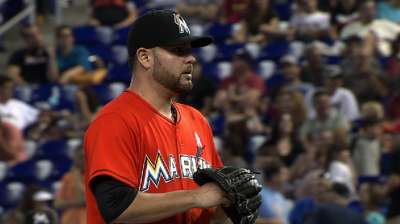 MIAMI -- For a Marlins team in search of its identity, Sunday's defeat of the Cardinals was a resounding sign of encouragement.
Behind one of Ricky Nolasco's strongest outings, Miami beat St. Louis, 7-2, on Father's Day in the rubber match of their three-game set in front of 18,468 fans at Marlins Park.
The win was a milestone for Miami on multiple fronts.
The Marlins clinched their fourth series win and their first against a team other than the Mets. Meanwhile, the Cardinals lost their first series since dropping two of three to the Pirates on April 26-28.
The victory also improved Miami's record in June to 7-6, surpassing its wins from May (6-22) and coming one victory closer to matching the eight wins it recorded in all of June 2012.
"To get a win against such a great team and a great lineup and to play as well as we did, that's a great day," Marlins manager Mike Redmond said. "It was a testament to those guys out there who've battled and endured.
"And now we're starting to see some good things and getting some results. As a manager, it's fun. It's fun to watch these guys have fun."
Dealing with trade rumors as the season nears the halfway point, Nolasco (4-7) shut down one of baseball's best lineups -- in what Redmond called a "tremendous pitching performance" -- to earn his 80th career win, adding on to his franchise-best total. He gave up only one run on three hits, walking one and striking out four in seven stellar innings. The outing marked his team-leading ninth quality start.
"Obviously, that lineup is probably top-three in the league," Nolasco said. "You've just got to stay focused. You can't sit there and lose concentration and leave balls over the middle, because they're going to start crushing you."
Nolasco proved especially stifling after giving up a run on two hits in the third. He retired 13 of the final 14 batters he faced. A seventh-inning David Freese single was the Cardinals' only offense between the third and the ninth.
"We had three hits going into the last inning," St. Louis manager Mike Matheny said. "We've seen quite a bit of him, and every time we've seen him, this is what we knew was going to be there. He made pitches, and he's always been tough."
Added Cardinals center fielder Jon Jay: "He did a good job keeping us off balance. He threw all his pitches whenever he wanted. It was one of those days where we couldn't put anything together."
The right-hander earned his first win since May 19 due in part to another good showing from the Giancarlo Stanton-powered Marlins offense. Going into Sunday's action, Nolasco ranked 102nd in the Majors among qualified starters with an average of 2.07 runs per start.
The Marlins averaged 6.3 runs per game in three contests against the Cardinals' staff, which boasted the best ERA in the Majors at 3.23 before Sunday.
After pushing 12 runs across on Friday and Saturday, Miami kept scoring on Sunday, tagging St. Louis starter Tyler Lyons with six runs on eight hits in 5 1/3 innings.
"It helps a ton to get a couple of runs early," Nolasco said. "And then we keep pouring it on there. And get to a 4-1 lead, and then 6-1 and then 7-1, it just changes everything from the way you can pitch and stuff like that."
Miami got going early, plating first-inning runs for the second day in a row.
Juan Pierre led off the first with a single, extending his season-best hitting streak to 12 games. His current streak is his 15th of at least 12 games.
"Hitting is contagious," Pierre said. "You see a couple of guys get hits, and you want to get involved."
Pierre advanced to third on a one-out double from Stanton, who has hit safely in all six games since he returned to action on June 10. Subbing for a slumping Marcell Ozuna in center field, Justin Ruggiano knocked in Pierre and Stanton on a two-run single, putting Miami up, 2-0.
"To go out there in the first inning and put a couple of runs up early helped [Nolasco] kind of settle in," Redmond said.
The offensive barrage continued in the fourth.
With Miami nursing a one-run lead after a Jay RBI single in the third, Pierre slapped a two-run single to right field with the bases loaded, increasing the Marlins' lead to 4-1.
The two-out hit also marked Pierre's first RBIs since he recorded a run-scoring single in the seventh inning of a 7-3 loss to the Phillies on May 21.
Miami struck again in the fifth with more two-out heroics from another veteran. This time it was third baseman Placido Polanco, who doubled to shallow center field, driving in both Ruggiano and Adeiny Hechavarria to pad the Marlins' cushion to 6-1.
"It just seems like, right now, anybody we put up there in a situation has got a chance to come up," Redmond said. "I think guys sense that, and you can just kind of see the confidence as guys go up to the plate."
Hechavarria capped Miami's offensive outburst in the seventh, singling home Derek Dietrich, who notched the Marlins' 10th hit with a one-out double.
The seventh-inning run looked like it may have proved critical as the Cardinals sent Matt Holliday to the plate with the bases loaded and two outs in the ninth.
However, Steve Cishek came in and fanned Holliday looking, earning the save and sealing the win while putting an exclamation point on an impressive showing against one of the top clubs in the Majors.
"We knew they were a great team coming in here," Pierre said. "It's all the work we've been doing all year, man. It's just starting to pay off a little bit. It's a big series win."
Joe Morgan is an associate reporter for MLB.com. This story was not subject to the approval of Major League Baseball or its clubs.