Blanks' blast gives Padres sixth straight win
Blanks' blast gives Padres sixth straight win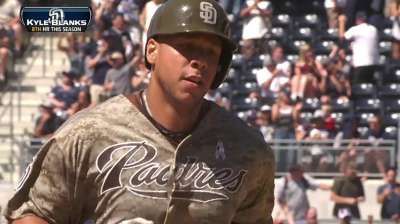 SAN DIEGO -- If all went as planned, Kyle Blanks would be in Triple-A right now. The Padres are sure glad he isn't.
The young slugger has been on a tear since he was nearly sent down on June 6, but his biggest hit of all came on Sunday afternoon.
Blanks hit a game-deciding three-run home run in the eighth inning that gave the Padres a 4-1 victory over the Arizona Diamondbacks at Petco Park.
It validated an excellent outing from starter Clayton Richard, who allowed one run over eight innings. It completed a three-game sweep of the rival D-backs and leaves the Padres just two games behind Arizona in the NL West.
It continued a torrid stretch for Blanks since being optioned and promoted before he reached Triple-A Tucson because Yonder Alonso went on the disabled list. In the 10 games since that day, Blanks is hitting .306 with four home runs and 10 RBIs.
On a team with several injured starters and star third baseman Chase Headley scuffling at the plate, Blanks has been the Padres saving grace.
"He's taken this opportunity and really made the most of regular play," Padres manager Bud Black said. "He's made a real statement with his performance, and we're starting to see how good Kyle can be."
Blanks showed flashes in 2009, but injuries derailed subsequent seasons and halted his big league career. After being called up on April 14, Blanks has batted .281 with eight home runs and 26 RBIs in 135 at-bats.
"When there's an opportunity, it must be taken advantage of," Blanks said. Fortuantely, I've been able to get regular at-bats lately and I'm doing something with them."
The Padres' depth will be tested further. Carlos Quentin (shoulder) missed a second straight game and Black said he'll miss a few more. Shortstop Everth Cabrera injured his hamstring Sunday and could be out some time.
They will become increasingly reliant on a starting rotation that struggled early on, but is now throwing extremely well.
Entering Sunday, the Padres starters were 6-0 over the previous seven games. Richard continued that positive trend with his best start of the season.
Richard was able to keep pitches down in the strike zone, something he struggled with during a string of poor performances.
"Clayton threw extremely well," Black said. "I thought he had good command of the fastball down in the zone, which is something he hasn't always had this season. He had good action with all of his pitches, which is what we expect of him every time out."
Richard got a win thanks to Blanks' big hit.
The game was tied 1-1 after the teams exchanged blows in the third inning.
Arizona opened the scoring when Cliff Pennington doubled, stole third base and was driven home with a single from starting pitcher Ian Kennedy.
The Padres responded with a run of their own. Will Venable hit a home run 429 feet to right field in the bottom of the inning that evened the score.
Kennedy pitched well in his first start since being involved in a fracas with the Los Angeles Dodgers on Tuesday. Kennedy appealed the 10-game suspension for that night's actions and was therefore able to pitch against the Padres.
Kennedy helped his team greatly, giving up just one run in six-plus innings. He struck out six and walked just one.
"Kennedy was really good," Blanks said. "Fortuantely, we were able to get to their bullpen at bit."
Blanks tagged reliever David Hernandez with the loss and Huston Street closed things out with his 13th save in 14 tries.
It continued the Padres' surge. They've won nine of their last 11 games and have put themselves in the thick of the NL West race.
They won every game of the homestand, and have won 20 of the last 27 at Petco Park.
"They've beat a lot of people here," D-backs manager Kirk Gibson said. "This is probably one of the hottest teams in the game right now."
The Padres are playing good, fundamental baseball. The wins have come from solid all-around play, which has given this upstart group the confidence to compete.
"This little run we're on is a result of good starting pitching, timely hitting and good defense," Black said. "It's obvious, but it's truly important to play well in all three aspects of the game. We're doing that, and we're getting contributions throughout the lineup.
"Our goal was to be right in the middle of a pennant race. Our guys are responding and playing very good baseball."
Scott Bair is a contributor to MLB.com. This story was not subject to the approval of Major League Baseball or its clubs.